PRINT THIS ARTICLE
REVERSAL
---
DFS And A Reversal Of Fortunes?
09/13/11 09:10:37 AM
---
by Donald W. Pendergast, Jr.
---
Some market reversal situations inspire more confidence than others, and this just may be one of them.
Security:
DFS
Position:
Buy
While the day-to-day gyrations of the stock and commodity markets may not be as predictable as a train or bus schedule, it really does seem that every time the financial stocks get clobbered, that

A. They always get sold off to an inordinate degree, and
B. The resulting snapback rallies are nearly as breathtaking as the previous round of panic selling was.

That said, let's examine the daily graph of Discover Financial Services (DFS) to see if this is a financial sector issue that has already overstayed its impressive relief rally or if it may actually be destined to move even higher in the near term. See Figure 1.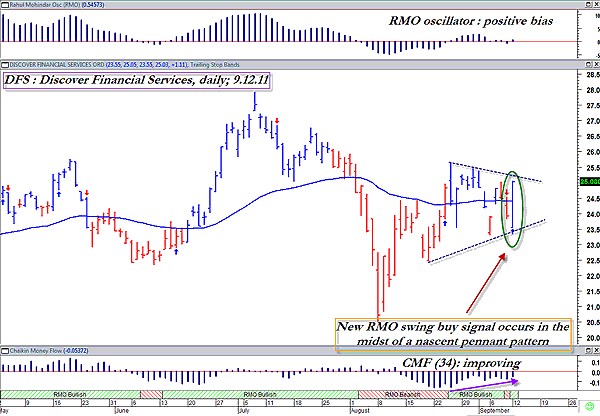 FIGURE 1: DFS, DAILY. A RMO system buy signal occurring after a sharp intraday reversal -- in the midst of a consolidation pattern -- may be a good trade setup to keep an eye on. A daily close above the upper pennant boundary would be quite bullish.
Graphic provided by: MetaStock.
Graphic provided by: Rahul Mohindar (RMO) indicator from MetaStock 11.
DFS was hit very hard during the July-August stock smash, a vicious market decline seemingly precipitated by the ongoing debt woes in Europe and beyond. The stock fell all the way from $27.92 to $20.51 between July 7 and August 8, with the truly panic selling phase kicking in right near the end of that time window. Since then, however, the stock has managed to reclaim more than half of those losses and is now enmeshed in a newly formed consolidation/pennant formation that has printed amid a backdrop of improving momentum and money flow indications. Even better for the bulls in this stock, the Rahul Mohindar oscillator (RMO) trading system has fired a new swing buy signal, one occurring on a wide daily range and healthy volume. To help sweeten the deal even more, DFS also features above-average relative strength over the past 13 weeks versus the .SPX.


Playing this long entry in DFS can be as simple as placing a buy-stop order a couple of ticks above Monday's high of $25.05 and then placing an initial stop-loss order (if filled on the buy-stop) a few ticks below Monday's low at $23.55.

While it's always fun to calculate a price target for a swing trade (and, in fact, it is sometimes a very prudent thing to do, especially in volatile markets), the fact that this particular swing buy signal is happening during an ongoing consolidation might be a hint that a continuation move is in the works. If that is the case, then managing the position with a three-bar trailing stop of the daily lows is probably more in keeping with the potential profitability of this trade setup. But no matter how you play it, please be sure to limit your risk exposure to no more than 1% to 2% of your total account equity, just in case the move fails to materialize as anticipated.


---
Donald W. Pendergast, Jr.
Donald W. Pendergast is a financial markets consultant who offers specialized services to stock brokers and high net worth individuals who seek a better bottom line for their portfolios.
Title:
Writer, market consultant
Company:
Linear Trading Systems LLC
Jacksonville, FL 32217
Phone # for sales:
904-239-9564
E-mail address:
lineartradingsys@gmail.com

Traders' Resource Links

Linear Trading Systems LLC has not added any product or service information to TRADERS' RESOURCE.
---
Click here for more information about our publications!
Comments
Date:
 09/13/11
Rank:
 4
Comment:
PRINT THIS ARTICLE