PRINT THIS ARTICLE
TRADING SYSTEMS
---
Micron Technology's Time To Fly Again?
09/09/11 08:56:27 AM
---
by Donald W. Pendergast, Jr.
---
Typical of many Standard & Poor's 500 component stocks of late, shares of semiconductor manufacturer Micron Technology (MU) appear to be in the process of breaking higher from well-formed consolidation patterns whose bottom support levels have already been successfully tested and in some cases retested. With a fresh Raff MarketSpace Stock system buy signal now having printed on MU's daily chart, all that savvy swing traders really need to do here is to decide how aggressive they wish to be in sizing their positions, should they desire to take this latest long entry setup. Here's a closer look for those whose interest level has been captured (Figure 1).
Security:
MU
Position:
Buy
After a significant stock market correction (plunge, crash, panic, and so on), it usually takes a while before the fear levels start to abate before the good old-fashioned profit motive that drives every serious trader and investor begins to reassert itself in the market. In the case of MU, the stock has not only traced out a near-textbook-quality triple-bottom pattern on its daily chart, but it has also done so amid the backdrop of a pronounced bullish money flow divergence, one topped off by a MetaStock 11 Raff MarketSpace Stock system (a very solid expert advisor template in MetaStock 11) buy signal occurring after an attempted break higher out of the pink-shaded consolidation zone on the chart. With dozens and dozens of large and even small-cap stocks exhibiting similar patterns all across the market landscape, it would be a major surprise to see the broad market sputter and stall again before marching higher to recover a substantial amount of the losses incurred during spring and summer 2011.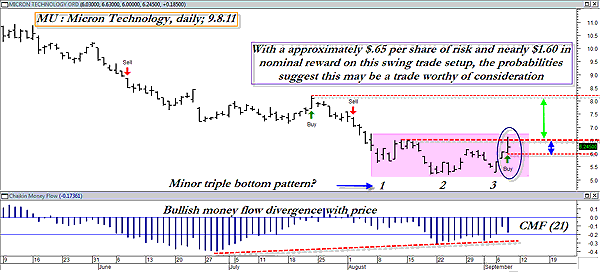 FIGURE 1: MU, DAILY. A convincing breakout attempt, a new buy signal, and positive money flow divergence all set the stage for a possible rally in Micron Technology.
Graphic provided by: MetaStock.
One of the more exciting features of this potential long swing trade setup is the extremely favorable risk-reward ratio (RR) offered here. Assuming a trader sets the initial stop-loss a few ticks below Thursday's breakout buy signal bar and then uses the July 22, 2011, swing high of $8.20 as his/her target price for the trade, the RR comes in at about 2.45-to-1 before commissions and slippage. And even if they would choose to set the stop just below Wednesday's low of $5.82, the RR still comes in at better than 2-to-1. Not bad at all! Just be sure to use some sort of a buy-stop entry above Thursday's high of $6.63, risking no more than 1% to 2% of your account equity on the trade.

As usual on intelligently managed long swing trades, utilizing a two- to three-bar trailing stop of the daily lows makes a lot of sense -- it gives you an objective way to book profits and/or manage losses even as it lowers your stress level. What could be better than that if you're a serious swing trader?


---
Donald W. Pendergast, Jr.
Donald W. Pendergast is a financial markets consultant who offers specialized services to stock brokers and high net worth individuals who seek a better bottom line for their portfolios.
Title:
Writer, market consultant
Company:
Linear Trading Systems LLC
Jacksonville, FL 32217
Phone # for sales:
904-239-9564
E-mail address:
lineartradingsys@gmail.com

Traders' Resource Links

Linear Trading Systems LLC has not added any product or service information to TRADERS' RESOURCE.
---
Click here for more information about our publications!
Comments
PRINT THIS ARTICLE