PRINT THIS ARTICLE
TRADING SYSTEMS
---
Texas Instruments Positive Divergence?
09/08/11 09:06:58 AM
---
by Donald W. Pendergast, Jr.
---
With many stocks rebasing after experiencing a volatile August plunge, Texas Instruments appears to be offering one of the better low-risk long swing trade entries.
Security:
TXN
Position:
Buy
With shares of Texas Instruments (TXN) off by roughly a third of their mid-spring 2011 numbers, value-oriented traders and investors are probably going to want to take a good look at the current long trade setup being offered on this semiconductor giant's daily stock chart (Figure 1). The stock has finally begun to break toward the upper end of what looks to be a fairly complete consolidation zone (see pink shaded area on the chart), one that also features a very bullish-looking price/money flow divergence.

Positive divergence patterns like these are frequently present at major lows on any given time frame, adding extra confidence to those seeking to take long system buy signals that occur in the wake of the low. That's just what's happening now, what with the RMO trading system having fired its second long entry signal in just the past seven trading sessions.

This appears to be a good time for aggressive swing traders (or nimble intraday traders) to attempt to catch this potential for a move up higher out of the hole in TXN. There are dozens of other big-cap names also printing similar chart patterns, allowing for those wishing to go long TXN here a bit of extra confidence.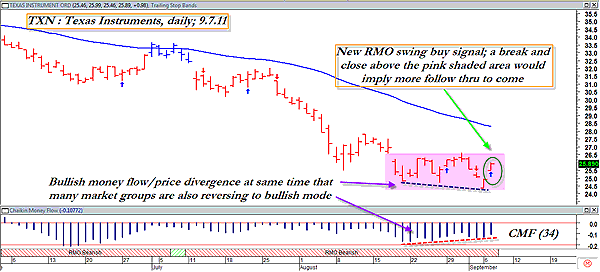 FIGURE 1: TXN, DAILY. Bullish money flow/price divergences always seem to make frequent appearances just before a significant market turn really gets going. Note the recent positioning of the RMO swing buy signals along with the well-formed consolidation pattern, shaded in pink.
Graphic provided by: MetaStock.
Graphic provided by: Rahul Mohindar (RMO) and WB ProfitTrader Tools.
Playing TXN might be as simple as buying on a stop as prices exceed Wednesday, September 7's high of $25.99 by two ticks and then placing a stop-loss order several ticks below Wednesday's low of $25.46 -- if filled on the buy-stop. Once in, simply manage the entire position with a two- to three-bar trailing stop of the daily lows until taken out of the trade. With the 50-day exponential moving average (EMA) still more than $2.30 higher than the current price of the stock, the potential risk-to-reward ratio of this swing trade setup appears to be better than three-to-one, which is excellent for such a style of trade. However you choose to trade this setup, be sure to limit your account risk sensibly at no more than 1% to 2% of your account's value, just in case things don't turn out as anticipated.


---
Donald W. Pendergast, Jr.
Donald W. Pendergast is a financial markets consultant who offers specialized services to stock brokers and high net worth individuals who seek a better bottom line for their portfolios.
Title:
Writer, market consultant
Company:
Linear Trading Systems LLC
Jacksonville, FL 32217
Phone # for sales:
904-239-9564
E-mail address:
lineartradingsys@gmail.com

Traders' Resource Links

Linear Trading Systems LLC has not added any product or service information to TRADERS' RESOURCE.
---
Click here for more information about our publications!
PRINT THIS ARTICLE