PRINT THIS ARTICLE
NEW HIGHS-NEW LOWS
---
Autozone At A New High And Climbing
09/07/11 09:07:48 AM
---
by Donald W. Pendergast, Jr.
---
How do you argue with a stock that is making new highs, seemingly week after week? The simple answer is you don't.
Security:
AZO
Position:
N/A
I don't normally display too many monthly charts with the articles I write for Traders.com Advantage (TCA), but this may convince you as to why you might want to devote at least a portion of your trading and/or investing resources to stocks that continue to make new highs. Here's an interesting look at Autozone (AZO), a stock that has been in a long-term bullish trend (based on monthly swing highs and lows) for nearly three years.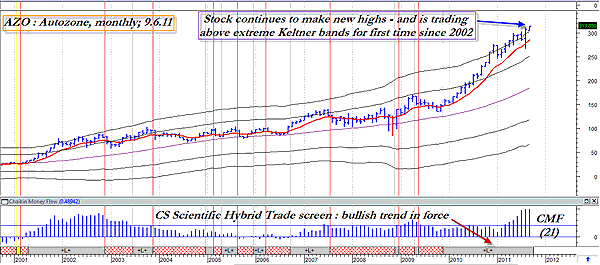 FIGURE 1: AZO, MONTHLY. With towering money flow readings and prices surging beyond the reach of the extreme upper Keltner bands, this monthly chart of Autozone really puts the phrase "bull market" into proper perspective.
Graphic provided by: MetaStock.
Graphic provided by: CS Scientific Expert Advisor from MetaStock.
After staging a dramatic turnaround in November 2008, AZO rose from $84.66 all the way to $314 as of September 6, 2011, which happens to be a gain of nearly 240%. The stock has endured periodic corrections along the way, but the consistency of the uptrending phases since those market horror days of late 2008 have been stunning. And the new highs just keep on coming; as we glance at Figure 1, there is still some technical evidence that suggests that the stock may indeed run even higher in the weeks and months to come.

First off, take a look at the super-bullish Keltner band configuration. The stock is trading above the extreme upper band for the first time since summer 2002 and is actually leaving the band in the dust, much like a space-bound rocket that finally escapes the grasp of Earth's gravitational forces. This is an incredibly powerful trend in motion!

Now move your focus to the Chaikin money flow histogram (CMF)(21) at the lower portion of the chart and witness its extremely bullish profile; the indicator is at its highest monthly reading going back to at least 1992, meaning that there is still no sign of a negative price/money flow divergence to be seen. If the current reading of the histogram was lower than it was at its last major peak in October 2002, then there might be some concern that the uptrend was due for a sooner rather than later corrective move, but that just isn't the case here.

Finally, be aware that one of the most reliable of all the MetaStock 11 expert advisors, the CS Scientific Hybrid Trade screen, is also confirming the presence of a major bull move on AZO's monthly chart (Figure 1). For those readers unfamiliar with MetaStock, the colored ribbons at the bottom of the chart tell the tale -- the gray ribbon with the +L+ identifier means that the stock in question is in a confirmed bullish trend.


Daytraders and swing traders are sure to find ample opportunity to buy AZO on any intraday dips, but given the ability of AZO to keep on chugging higher for weeks at a time before taking a breather, I'd say that this auto-parts giant is offering a superb near-term covered-call opportunity, but only for well-heeled investors with tons of cash to deploy. After all, with the stock trading at about $314 per share, it's going to cost $31,400 just to buy the 100 shares needed to be able to do a covered call in the first place. Ordinary traders with smaller accounts might want to instead investigate the purchase of LEAPS and/or start analyzing the variety of debit or credit option spreads that can also profit from sustained advances in AZO's share price.

As always, look for close bid-ask spreads and sufficient trading volume/open interest at the strike prices you intend to focus on when constructing your strategies. There should be more than enough opportunity to go around, no matter which way you decide to play this bull run in Autozone.


---
Donald W. Pendergast, Jr.
Donald W. Pendergast is a financial markets consultant who offers specialized services to stock brokers and high net worth individuals who seek a better bottom line for their portfolios.
Title:
Writer, market consultant
Company:
Linear Trading Systems LLC
Jacksonville, FL 32217
Phone # for sales:
904-239-9564
E-mail address:
lineartradingsys@gmail.com

Traders' Resource Links

Linear Trading Systems LLC has not added any product or service information to TRADERS' RESOURCE.
---
Click here for more information about our publications!
Comments
PRINT THIS ARTICLE