PRINT THIS ARTICLE
---
Triple Top and Bottom Formations in Gold and the US Dollar
04/11/02 09:46:31 AM
---
by Gary Grosschadl
---
One of gold's main influences is movement in the US dollar.
This can be readily seen comparing the long term charts of the gold index (XAU) and the US dollar index (USD).
Security:
$XAU/$USD
Position:
N/A
Triple tops and triple bottoms can be very good reversal patterns. They are important tests of support and resistance and when the pattern successfully breaks out then either bulls or bears gain control of subsequent market action.


These monthly charts show a very broad picture when comparing these commodities. It is generally considered that a strong USD is usually bad for gold and a weakening USD is often supportive of gold. Gold often enjoys safe haven status when paper currencies are perceived to be under pressure. These are not hard and fast rules as gold and USD go through periods where no linkage is apparent. However these monthly charts do show a noteworthy pattern.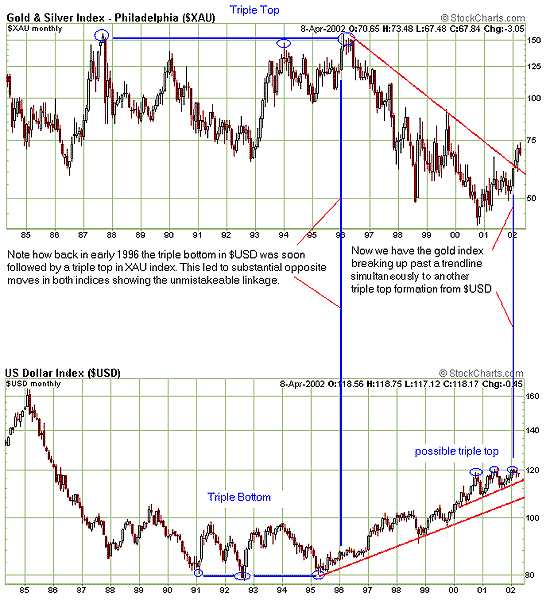 Graphic provided by: stockcharts.com.
These long term charts illustrate how the gold index (and by proxy most gold companies) was generally stronger from 1987 to 1996 as the index traded mostly above the 75 level. At the same time, though, the USD was trading at a lower zone of generally under the 100 level.


Note how after 1996 USD enjoyed a long run of strength after making a successful triple bottom reversal. At around the same time one could argue that the XAU failed a long term triple top test although many technicians like to see a more equal pattern between the tops.

What is very apparent is the big move for both from 1996 to the present.


Lately there has been some excitement in the gold markets as the price of gold made a move past 300. This is also evident on the monthly XAU chart by virtue of a 6-year trendline break. The interesting observation is that this may be in response to a possible triple top on the USD. It is quite possible that gold traders have noticed this event and this has given extra ammunition to the gold bugs. The truth is that many factors are involved in gold movements, however long term triple tops and bottoms don't come along all that often and are sure to catch the attention of alert traders.

This potential triple top is a smaller formation than the previous ones so the repercussions may also be limited. The XAU has to fight through a congestion zone of the 75 area. Meanwhile there is possible support from USD's minor trendline at 116 and then major support likely at 108. Watch for success or failure at these crucial points in this and shorter time frames as a guide going forward. Gold moves are notorious for quick reversals and traders should keep this in mind.


---
Gary Grosschadl
Independent Canadian equities trader and technical analyst based in Peterborough
Ontario, Canada.
---
Click here for more information about our publications!
Comments
Date:
 04/13/02
Rank:
 4
Comment:
Date:
 04/13/02
Rank:
 4
Comment:
Date:
 04/16/02
Rank:
 4
Comment:
Date:
 04/24/02
Rank:
 5
Comment:
PRINT THIS ARTICLE