PRINT THIS ARTICLE
TRADING SYSTEMS
---
XL Group New System Sell Signal
08/26/11 09:14:42 AM
---
by Donald W. Pendergast, Jr.
---
Sell signals from proven trading systems that fire amid a backdrop of negative momentum and weak money flow might be just the ticket to profit from further market weakness.
Security:
XL
Position:
N/A
XL Group (XL), one of the global insurance giants, has seen its share price steadily erode since peaking in early April 2011. In the time since then, the shares have gradually declined from $25.43 to $18.85, even taking out the very significant November 2010 swing low of $19.36 in the process. Currently, the stock appears to be on track to do either of two things:

1. Make a double bottom and rally up toward major resistance near $21.88.

or

2. Continue to drop, taking out the August 8, 2011, swing low of $17.84 en route to even lower valuations.

One look at the daily graph for XL (Figure 1) makes a very convincing case that the brand-new RMO swing sell signal in the stock may very well have enough downward pressure bearing upon it (negative money flow and momentum trends) to put it even deeper into the coal mine of plunging stock prices over the course of the next few weeks (months?).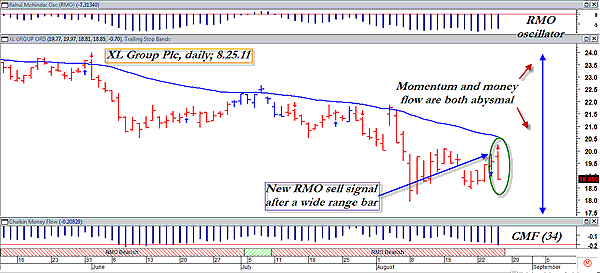 FIGURE 1: XL, DAILY. Although the RMO trading system in MetaStock 11 is usually thought of as a trend-following system, there is no reason why smart traders can't take partial profits once key price targets are reached on any given move. In this case, a drop to the $17.94 area might be a good place to book at least partial profits and drop the stop-loss to at least break even.
Graphic provided by: MetaStock.
Graphic provided by: Rahul Mohindar (RMO) and WB ProfitTrader.
The stock also is burdened by its very poor relative strength ranking against the .SPX over the past calendar quarter (13 weeks), making this new RMO swing sell signal even more appealing to aggressive equities market traders. Prices are also well under their 50-day exponential moving average (EMA), yet another technical factor that seems to put the near-term trend bias for XL into the bearish camp.


While the RMO trading system in MetaStock 11 is generally viewed by traders as a trend-following system, there certainly is no reason why enterprising traders couldn't elect to take some profits on their short positions if XL decided to retest that major low at $17.94, as that price area is sure to be a battleground between the bulls and the bears -- should the stock even fall that far after being shorted -- allowing for shrewd traders to lock in some gains as they bring their stop-loss down to at least break even, thus virtually ensuring a risk-free trade (at that point). In crazy, volatile markets, you need to be prepared to act quickly to preserve open profits, prevent needless losses, and to keep one's trading account equity curve growing at a steady rate.


---
Donald W. Pendergast, Jr.
Donald W. Pendergast is a financial markets consultant who offers specialized services to stock brokers and high net worth individuals who seek a better bottom line for their portfolios.
Title:
Writer, market consultant
Company:
Linear Trading Systems LLC
Jacksonville, FL 32217
Phone # for sales:
904-239-9564
E-mail address:
lineartradingsys@gmail.com

Traders' Resource Links

Linear Trading Systems LLC has not added any product or service information to TRADERS' RESOURCE.
---
Click here for more information about our publications!
PRINT THIS ARTICLE