PRINT THIS ARTICLE
TRADING SYSTEMS
---
Which Is The Best Trading System For You?
08/23/11 10:44:35 AM
---
by Donald W. Pendergast, Jr.
---
Some trading systems appear to be almost a tailor-made fit for a given stock's trading characteristics.
Security:
Various
Position:
N/A
The more I become familiar with the various expert adviser trading system templates included in MetaStock 11, the more attractive the Raff MarketSpace Stock system seems to become. I overlaid this particular advisor on the daily chart for Massey Energy (MEE), a stock that had a long trading history, until early June 2011, and was stunned at how accurate it was at calling the various up and down swings in that former energy stock (Figure 1). While there are no backtest statistics available for these expert advsiser templates, all it takes is a reasonably good set of eyes to realize that this system made money when trading MEE on the daily time frame. For those of you who have MetaStock 11 or newer, all you need to do to load this expert onto your daily chart (of whatever security you choose) is this:

1. Right-click anywhere on the chart window
2. Click Attach
3. Select Gil Raff MarketSpace Stock System
4. Click OK.

The expert's buy & sell signals will now appear on your chart. This is a very tough and adaptable system, one that seems well-suited to traders who are comfortable with either a stop & reverse trading methodology and/or those traders who are prepared to ride out any and all trades with a suitable volatility-based trailing stop -- say, something like a 2.5 * 10 ATR volatility stop, one large enough to capture sizable trend moves without being prematurely stopped out too often.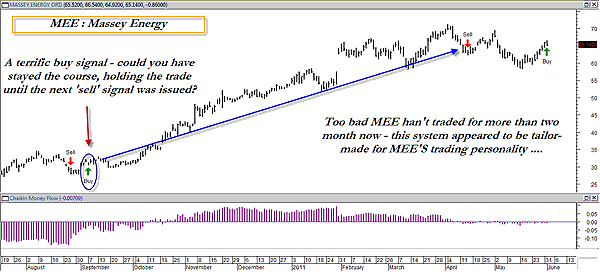 FIGURE 1: MEE. Although MEE doesn't trade anymore, there are more than a limited handful of stocks in the current S&P 500 that also exhibit a very successful track record with the Raff MarketSpace Stock System's trading signals.
Graphic provided by: MetaStock.
Graphic provided by: Raff MarketSpace Stock System from MetaStock 11.
As is plainly seen, most of the Raff buy & sell signals print until a given market swing happens, meaning that a trader is going to need to be willing to let moves play out over a longer time period if they are to eventually benefit from the powerful trend thrusts that eventually develop in most markets. This last buy signal for the stock (before it stopped trading in early June 2011) is no exception -- the major daily swing low prior to the green arrow occurred 10 bars prior. Ten days! Yet over time, this system worked out in MEE -- but only for patient, dedicated traders who learned to trust the trading system. Without trust, you'll go bust second-guessing signals -- and your trading account will turn to dust.


Not all stocks work as well with the Raff MarketSpace Stock system as MEE did, but once you start applying this MetaStock expert advisor to your charts, you'll come to realize that this system isn't a lightweight, by any means. Give it a try on the stocks and futures contracts you track and see if you don't also agree.


---
Donald W. Pendergast, Jr.
Donald W. Pendergast is a financial markets consultant who offers specialized services to stock brokers and high net worth individuals who seek a better bottom line for their portfolios.
Title:
Writer, market consultant
Company:
Linear Trading Systems LLC
Jacksonville, FL 32217
Phone # for sales:
904-239-9564
E-mail address:
lineartradingsys@gmail.com

Traders' Resource Links

Linear Trading Systems LLC has not added any product or service information to TRADERS' RESOURCE.
---
Click here for more information about our publications!
Comments
PRINT THIS ARTICLE