PRINT THIS ARTICLE
TRADING SYSTEMS
---
Lower Stock Prices Ahead For Priceline?
08/22/11 08:29:42 AM
---
by Donald W. Pendergast, Jr.
---
Some sell signals are more appealing than others, depending on the broader context in which they appear.
Security:
PCLN
Position:
Sell
The astounding run that Priceline.com (PCLN) recently completed is truly a textbook-quality example of a powerful trend move, one that the Raff MarketSpace Stock system used to great advantage for nearly 10 months as the stock powered all the way from $182.27 to $561.88. Now, however, the tables have turned and PCLN has put in a double top, money flow has gone negative, and a fresh Raff MarketSpace Stock system sell signal has just printed. Is this a potentially good short setup, or is it one better left alone? Let's see if we can find out now. See Figure 1.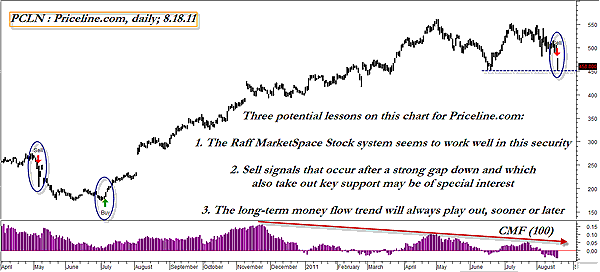 FIGURE 1: PCLN, DAILY. Two winning system signals and three reasons to consider going short PCLN right about now -- all on the daily chart. Always remember that risk control is even more critical in short sale trades due to the possibility of savage short-covering rallies, rallies that at times seem to come out of nowhere.
Graphic provided by: MetaStock.
Graphic provided by: Raff MarketSpace Stock System from MetaStock 11.
The incredible, relentless advance by PCLN between summer 2010 and spring 2011 was certainly a trend move reminiscent of the NASDAQ mania days in the late 1990s. Like every trend, however, this one also matured, lost forward momentum, pulled back, made a second attempt at a new high, failed, and then began the messy process of engineering a major reversal in trend -- from up to down. Currently, the stock is perched right near a major point of chart support (the June 2011 swing low of $451.75) after gapping lower on heavy volume on Thursday.

On the daily graph of PCLN, note how long that money has been slowly draining out of the stock; the exodus began slowly, long before the current trend reversal got under way. This is almost always a tipoff that a stock or commodity is going to correct and/or reverse, but of course, you still need to wait for actual technical timing tools to guide you into when and how to enter such a trade once the reversal is under way and/or confirmed. And we certainly have that with the latest Raff sell signal. While no one knows how this one will play out, take a look at the last two trading signals, both of which were winners, certainly a hopeful sign.


Playing this move could be a bit tricky; you don't want to let a potentially good trend-following move go to waste, yet at the same time you also don't want to go overboard, chasing a stock that may have gone a bit too far, too fast -- and which begins to reverse on you a few minutes after you sell short near the low of the trading session! So with that in mind, how about considering putting on only half a short position on a drop below Thursday's low and then waiting for a minor intraday rebound to go short the second half, all the while maintaining a stop-loss near $486, which is the top of the recent open gap? Size your position so that the whole thing won't put more than 1% or 2% of your account value at risk and then trail the entire position southward (if the trade goes the way we anticipate), with a two- to three-bar trailing stop of the daily highs.

This looks like a first-rate short sell, so do a bit of extra due diligence and see if you can't also find a few extra reasons to short PCLN here and now. I'll bet you can do that without even breaking a sweat, faithful TCA reader that you are.


---
Donald W. Pendergast, Jr.
Donald W. Pendergast is a financial markets consultant who offers specialized services to stock brokers and high net worth individuals who seek a better bottom line for their portfolios.
Title:
Writer, market consultant
Company:
Linear Trading Systems LLC
Jacksonville, FL 32217
Phone # for sales:
904-239-9564
E-mail address:
lineartradingsys@gmail.com

Traders' Resource Links

Linear Trading Systems LLC has not added any product or service information to TRADERS' RESOURCE.
---
Click here for more information about our publications!
PRINT THIS ARTICLE