PRINT THIS ARTICLE
CHART ANALYSIS
---
CF Industries At A Three-Year High
08/19/11 08:53:31 AM
---
by Donald W. Pendergast, Jr.
---
Some stocks were hardly even scratched by the July/August swoon in the broad markets.
Security:
CF
Position:
N/A
Shares of CF Industries (CF) are at a fresh three-year high, despite the recent carnage in the global equities markets. The stock still manifests a healthy technical pattern and even appears to be on the verge of bursting higher from a large, multimonth consolidation pattern on its weekly chart. Here's a more detailed look.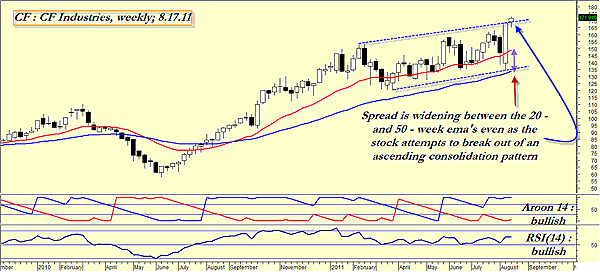 FIGURE 1: CF, WEEKLY. Bullish EMA spread, AroonUp, and RSI indicators all combine to confirm the bullish bent of this weekly chart for CF Industries. The nascent bullish pattern breakout looks like it could have staying power, given all of the other technically bullish evidence.
Graphic provided by: MetaStock.
Figure 1 is the weekly graph for CF, one overlaid with an Aroon, relative strength index (RSI), and dual exponential moving average (DEMA) template. Although it's a simple layout, the information that it provides to traders and investors is very useful. First, note the configuration of the Aroon indicator (middle chart window); we find that the 14-period AroonUp portion of this trend-intensity indicator is now pegged at its maximum bullish reading (100). This indicator is similar in some ways as the more widely known average directional movement index (ADX), developed by J. Welles Wilder, but which is a bit easier to decipher due to its design. Just below that we also see that the 14-period RSI is still holding strong with a reading of 64.81. Typically, any sustained readings above 60 are interpreted as being bullish for the market in question. Finally, note the spacing of the 20- and 50-week exponential moving averages (EMA) on the chart itself; the spread has remained wide for a few months and is now again accelerating higher.


To top off all of the other bullish technical confirmations, note how the stock is also in the early stages of attempting to break higher out of an ascending consolidation pattern. Breakouts are tricky to time and/or trade, but with all of the other evidence in favor of the bulls here, skilled traders should have little trouble locating low-risk intraday support areas where they can initiate new intraday and/or daily swing trades. Those with a longer-term investing horizon could also investigate the possibility of putting on a covered call trade with a two- to four-month time window until option expiration. Just be sure to shop around for the covered call with the best risk-adjusted return, a close bid-ask spread and healthy volume, and open interest numbers, if you choose to go this route.


---
Donald W. Pendergast, Jr.
Donald W. Pendergast is a financial markets consultant who offers specialized services to stock brokers and high net worth individuals who seek a better bottom line for their portfolios.
Title:
Writer, market consultant
Company:
Linear Trading Systems LLC
Jacksonville, FL 32217
Phone # for sales:
904-239-9564
E-mail address:
lineartradingsys@gmail.com

Traders' Resource Links

Linear Trading Systems LLC has not added any product or service information to TRADERS' RESOURCE.
---
Click here for more information about our publications!
PRINT THIS ARTICLE