PRINT THIS ARTICLE
DECLINING TREND
---
Is It Time To Buy Sony?
08/17/11 10:01:44 AM
---
by Koos van der Merwe
---
Sony Corp. has been falling since January 2000, when it reached a high of $158.18. Why has it not recovered?
Security:
SNE
Position:
Sell
Sony Corp. (SNE) is known as one of Japan's prestigious leading companies, yet ever since it reached a high of $158.18 in January 2000, the share has not been a winner. Admittedly it was hit by the tech bubble and the price collapsed along with the market to a low of $23.37 by May 2003.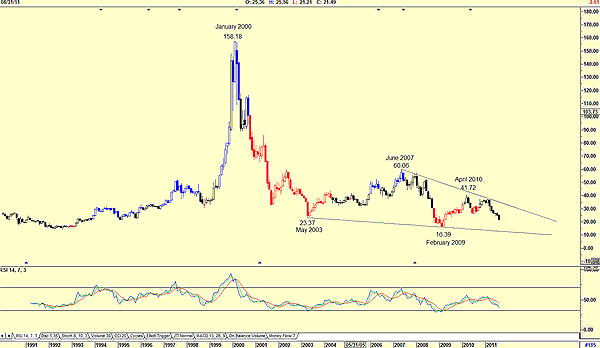 FIGURE 1: SONY, MONTHLY. Sony shows its collapse.
Graphic provided by: AdvancedGET.
Figure 1 is a monthly chart and shows how the price recovered from the low of $23.37 in May 2003 to $60.06 by June 2007 along with the market recovery. However, where the Dow Jones Industrial Average's (DJIA) recovery exceeded its previous high and the Standard & Poor's 100 recovered 77% of its fall, Sony shares only recovered 27%. Then along with the second fall in the market from September 2007, bottoming in March 2009, Sony fell to a low of $16.39 and has hardly recovered, reaching a high of only $41.72 by April 2010.

Admittedly, those who bought at $16.39 in February 2009 are smiling all the way to the bank, but the high of $158.18 in January 2000 now seems an impossibility to those who invested for the long term. What now the future of the company? Fundamentals do not look good, and hackers seem to enjoy hacking into the PlayStation network.

Many of Sony's products, since Howard Stringer took over as CEO, are manufactured in China. Theoretically, then, the company should not have been affected as much as other Japanese companies by the earthquake that hit Japan. Does the problem with the company then lie elsewhere? With a Caucasian CEO, for example, or a decline in its superb quality because of its Chinese manufacture?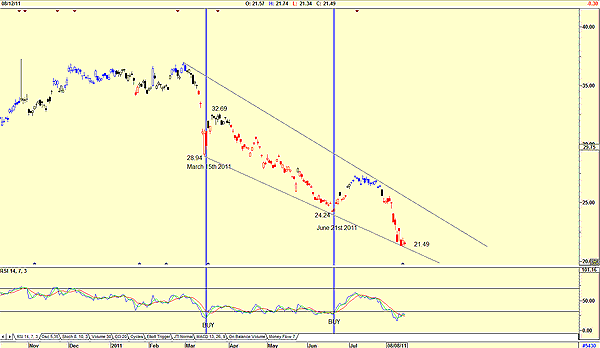 FIGURE 2: SONY, DAILY
Graphic provided by: AdvancedGET.
Figure 2 does show a buy failure as given by the relative strength index (RSI) on March 15, 2011. There was a slight correction as the price moved from $28.94 to $32.69, but the price then fell to $24.24 by June 21. With its present price at $21.49, the RSI is once again in oversold territory, but has not yet given a buy signal. Traders could take the chance in the hope that the price will rise to test the downtrend line. Investors, however, should stay away.

Sony's share price is going from bad to worse, yet one day, it will suddenly start rising. Is this another Apple waiting for someone like Steve Jobs, a man with imagination and vision? Definitely a share to put on a watchlist.



---
Koos van der Merwe
Has been a technical analyst since 1969, and has worked as a futures and options trader with First Financial Futures in Johannesburg, South Africa.
| | |
| --- | --- |
| Address: | 3256 West 24th Ave |
| | Vancouver, BC |
| Phone # for sales: | 6042634214 |
| E-mail address: | petroosp@gmail.com |
---
Click here for more information about our publications!
PRINT THIS ARTICLE