PRINT THIS ARTICLE
TRADING SYSTEMS
---
Smith International Waiting For The Breakdown
08/12/11 08:44:12 AM
---
by Donald W. Pendergast, Jr.
---
When you trade a trend-following system, it's usually best to wait for follow-through before initiating your position.
Security:
SII
Position:
N/A
After three horrendous weeks of broad market landslides, it appears as if some sort of a tentative resting place for the stock market has been found. However, there are still plenty of stocks issuing sell signals, among them Smith International (SII), a big player in the oil services industry group. Let's have a look at the status of its recent Raff MarketSpace Stock system sell signal.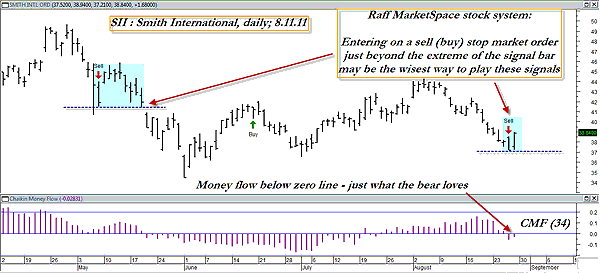 FIGURE 1: SII, DAILY. In the case of trend-following systems, it usually pays to wait for some follow-through before actually taking a position. The extreme of the signal's trigger bar (plus a tick or two) is the most obvious entry point, as shown in a couple of instances.
Graphic provided by: MetaStock.
Like just about every other stock going, SII has taken a big hit to its share price over the last month or so and it now is perched just above two closely spaced areas of chart support near $37 to $38 per share (Figure 1). You can see the fresh Raff MarketSpace Stock system sell signal that fired on Wednesday, August 10, 2011, and that there was a mild bounce higher the next day. Nevertheless, this does not mean that the signal is invalid. No, far from it; if you look at the previous sell signal, you'll see that SII did the same thing -- bounce higher after the original sell signal bar -- before collapsing in a blaze of short-selling glory as it took out the low of the signal bar, dropping significantly lower in no time.

While we don't know if this new signal will play out the same way, it's a safe bet to believe that many eyes will be watching to see if SII once again takes out that sell signal bar's low, potentially unleashing a terrent of new selling. Money flow (at the bottom of the chart) is also poor, lending an extra air of bearishness to this potential short setup.


Perhaps the only safe way to play SII here is to actually wait for the short sell trigger to be hit (price dropping below August 10's low) and to then trail the position with a two- to three-bar trailing stop of the daily highs. More paranoid traders could even trail it using 60-minute intraday bars if they are concerned about a possible short squeeze at some point (assuming this trade even gets triggered in the first place).


Waiting for follow-through is one of the best tactics a trend-follower can use. Learn how to put this technique to good use, and you may find yourself in far fewer losing trade setups -- setups that never properly triggered an entry in the first place.


---
Donald W. Pendergast, Jr.
Donald W. Pendergast is a financial markets consultant who offers specialized services to stock brokers and high net worth individuals who seek a better bottom line for their portfolios.
Title:
Writer, market consultant
Company:
Linear Trading Systems LLC
Jacksonville, FL 32217
Phone # for sales:
904-239-9564
E-mail address:
lineartradingsys@gmail.com

Traders' Resource Links

Linear Trading Systems LLC has not added any product or service information to TRADERS' RESOURCE.
---
Click here for more information about our publications!
PRINT THIS ARTICLE