PRINT THIS ARTICLE
TRADING SYSTEMS
---
Ross Stores Major Weekly Sell Signal
08/11/11 08:49:41 AM
---
by Donald W. Pendergast, Jr.
---
A strong daily sell signal is one thing, but when a good system flashes a weekly sell, it might really be time to pay attention.
Security:
ROST
Position:
N/A
Wednesday, August 10, 2011's quick reversal of the one-day sharp short-covering rally wasn't that big of a surprise to experienced traders, although nobody really knows what's going to happen next in this crazy, emotionally charged market. However, we can still put the probabilities in our favor, focusing on weak relative strength stocks that are issuing both daily and weekly sell signals from a powerful trading system. Here's a closer look now (Figure 1).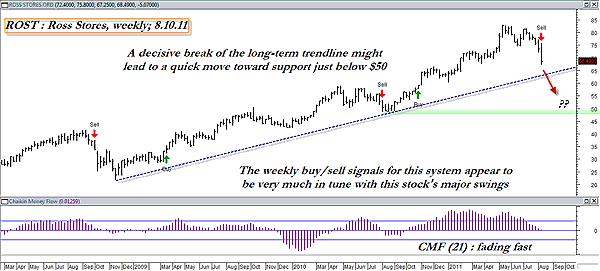 FIGURE 1: ROST, WEEKLY. MetaStock's expert advisor feature includes trading system signals from several notable traders/developers.
Graphic provided by: MetaStock.
Ross Stores (ROST) is a major player in the retail sector of the stock market, and its share price has already lightened up by about 20% over the past three months, with more declines likely dead ahead. At the close of trading on August 10, the stock was the recipient of not one, but two sell signals from the Raff MarketSpace stock system in MetaStock 11. That's right, a daily sell and a weekly sell signal at the same time!

As we look at the size of this week's price bar, it's easy to see that this stock has a ton of downward momentum pushing it southward; the fancy red sell signal stands out in stark contrast to the previous two sell signals; this one looks like the real deal, one that may have enough strength to make a quick run to the uptrend support line, if not all the way down toward major chart support in the $48 to $50 area. Money flow, based on the 21-week Chaikin money flow (CMF)(21), is petering out fast, which is also indicative of major selling pressure.


Option bid-ask spreads in ROST put options isn't very attractive, so why not just use your intraday timing skills to go short the stock on a minor pullback up to resistance? Then you can simply trail the shares lower using a two- to three-bar trail of the daily highs until the final stopout. With the sheer momentum of this stock squarely in favor of the bears now, you may just get a nice three- to four-day thrust to lower price levels and decide to get out while you still can. Raff buy/sell signals from MetaStock are usually pretty good when traded in the direction of the dominant trend, but you still may want to exit the trade sooner rather than later to minimize the chance of a short squeeze, one that could have a real negative impact on the outcome of the trade.


---
Donald W. Pendergast, Jr.
Donald W. Pendergast is a financial markets consultant who offers specialized services to stock brokers and high net worth individuals who seek a better bottom line for their portfolios.
Title:
Writer, market consultant
Company:
Linear Trading Systems LLC
Jacksonville, FL 32217
Phone # for sales:
904-239-9564
E-mail address:
lineartradingsys@gmail.com

Traders' Resource Links

Linear Trading Systems LLC has not added any product or service information to TRADERS' RESOURCE.
---
Click here for more information about our publications!
PRINT THIS ARTICLE