PRINT THIS ARTICLE
CHART ANALYSIS
---
Will The New Bear Market Be Mild Or Wild?
08/10/11 08:45:41 AM
---
by Donald W. Pendergast, Jr.
---
The 1100 area did offer intraday support for the .SPX, temporarily allowing for a short-covering rally. When the bear starts the mauling again, however, will the ensuing declines be fast and violent or more drawn out and tortuous?
Security:
.SPX, SPY, ES
Position:
N/A
In my Traders.com Advantage piece from August 8, I suggested that major Fibonacci confluence support near 1100 on the .SPX might be tested as soon as August 9. As it turns out, that's exactly what happened -- after which a notable short-covering rally erupted that took the .SPX up by 70 points from the intraday low! This decline that got under way a few weeks ago is almost certainly a genuine trend reversal, one that likely has a long way to go before it finally bottoms out and can base for a fresh bull market once again. Right now, let's take another look at the monthly chart, but from a different perspective, to see how unique each of the most recent bear market periods have actually been. See Figure 1.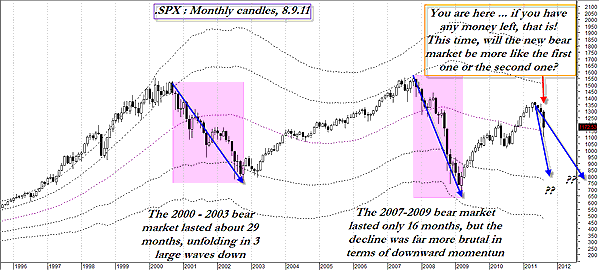 FIGURE 1: SPX, MONTHLY. Mama grizzly bear has been warning us about what was to come in the stock market, and, sure enough, here she is again, munching on 401K's, IRAs, and pension plans like it's her last meal before winter hibernation.
Graphic provided by: MetaStock.
Graphic provided by: WB Keltner bands from Profit Trader for MetaStock.
On the left side of the chart, the infamous 2000-03 decline is highlighted. Devastating indeed, especially to an entire generation of investors who'd been brainwashed into believing that "buy & hold" and "buy the dips" was the only sane way to play the stock market. Yet, note that it took almost two and a half years for the decline to play out -- in three distinct down waves -- and that there were "sucker rallies" in between the down waves. Traders might have made money on these rallies, but investors who thought they were the start of new bull markets were disappointed for sure.

Now compare that bear phase with the more recent one of 2007-09. Note how more vicious the downward momentum of the decline was in this one, and that there really weren't any sustained monthly relief rallies during the entire 16-month ordeal. In every sense, the 2007-09 bear market was worse -- a bigger percentage drop, a bigger point drop, too -- and all of it occurring in a much smaller window of time.


Now, of course, assuming we are in the initial phase of yet another bear market (three of 'em within an 11-year timespan, which is no small feat), and one has to wonder if the current bear cub is going to turn into a full-grown grizzly like the prior two were. So, as a public service to the concerned traders of the world, I've taken the liberty of tracing out two very unappealing pathways that the broad market may very well find itself on in the weeks and/or months to come, allowing you to consider that you need to adapt to a bear market world and market view for the foreseeable future. Big support in this market may not kick in until the 1000 to 1020 level is tested and retested, so make sure the strategies you rely on can take the heat of a potentially severe and long-lasting bear market.

An ounce of prevention (and preparedness) certainly beats a pound of cure, especially when dealing with something as unpredictable and ornery as the stock market. Be prepared for whatever might happen!


---
Donald W. Pendergast, Jr.
Donald W. Pendergast is a financial markets consultant who offers specialized services to stock brokers and high net worth individuals who seek a better bottom line for their portfolios.
Title:
Writer, market consultant
Company:
Linear Trading Systems LLC
Jacksonville, FL 32217
Phone # for sales:
904-239-9564
E-mail address:
lineartradingsys@gmail.com

Traders' Resource Links

Linear Trading Systems LLC has not added any product or service information to TRADERS' RESOURCE.
---
Click here for more information about our publications!
Comments
Date:
 08/10/11
Rank:
 4
Comment:
PRINT THIS ARTICLE