PRINT THIS ARTICLE
STRATEGIES
---
Three Signals For Selling A Stock
08/09/11 11:36:29 AM
---
by Billy Williams
---
Selling begets more selling in today's financial markets, and it is vital for you to know when to sell a position before the market moves against you. If you know these three signals for selling a stock, you can avoid getting caught flat-footed by a sudden selloff.
Security:
SPX
Position:
Sell
As of late, the market seems determined to outdo the previous day's record selloffs as traders leave equities in droves over the downgrade of the US credit rating by the S&P. While there are variety of opinions from a number of degreed experts, the fact is that you didn't need a doctorate in order to see that a selloff was coming but just needed good old-fashioned Street smarts to read the tale of the tape to see that the market was in trouble. Any talking head can get on the TV and opine on why you should buy or sell on any given day, and they would likely end up more wrong than right since they have no money on the line so they can afford to sound smart trying to tell you what to do with your investments.

But it's up to you to know when to sell a stock to take a profit and/or avoid a massive downturn like what you witnessed on August 9, 2011. While selloffs are unprecedented, there are three effective signals you can use to tell when it's time to sell a stock.

The first signal that you can use is to watch for distribution in one of the major indexes but, particularly, the Standard & Poor's 500, also referred to as the SPX. The SPX is composed of the top 500 publicly companies in the US and is a strong indicator of the health or lack thereof in the market as a whole. Distribution refers to the amount of selling taking place in the SPX, where the index sells off more than 1% of its total volume on trading volume that was greater than the previous day. See Figure 1.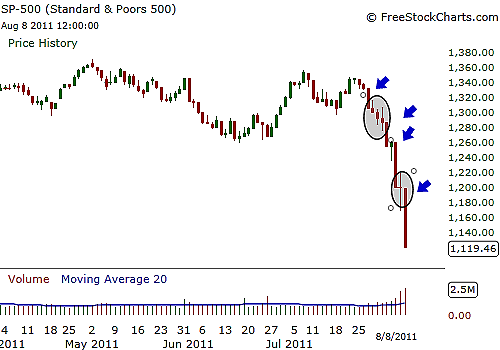 FIGURE 1: S&P 500. The SPX has confirmed all three signals for selling off your stock positions -- distribution days of 1% or more on greater-than-previous-day volume, distribution price bars that opened and closed at or near each other and selling below the 200 SMA.
Graphic provided by: www.freestockcharts.com.
If there are several distribution days within a short amount of time, such as four to six within a three- to four-week period, then the market is likely to experience a price reversal, resulting in most stocks declining. Several distribution days in a short time frame should be a warning sign to you if you have several long positions, and you should begin tightening up the stop-loss points or look to sell into any stock market rallies to get the best price possible so you can sit in cash on the sidelines to avoid the market decline and enter when the market is behaving more favorably.

Next, learn to spot distribution patterns in the market's price action. Price bars that trade on higher volume but open and close in the same place or near the same place are distribution patterns. William O'Neil, author of "How To Make Money In Stocks," called them "railroad tracks," and in Japanese candlestick trading, "dojis." This price bar reflects traders selling into the intraday rallies, which result in a tide of buying and selling that is equally matched so it ends up closing in price at or near the opening price for that day. This is how skilled professionals liquidate positions steadily without raising the suspicions of other traders, but experienced traders know how to spot it by using a combination of price and volume, taking note of the distribution and how it can lead to a market decline.



The final signal when to sell a stock is when one of the major indexes sells below its 200-day simple moving average (SMA). When price falls below the 200 SMA, it's a sure sign that weakness has overtaken the market and as a result, the bears have now taken dominance of the market's direction from the bulls. This is a strong sign to tighten up your stops, liquidate your position, and start looking to short the market as the trend continues lower.

All of these tips are strong methods for gaining an edge on when to sell a stock in order to take profits or to protect yourself from a strong price reversal by tightening up stops or exiting altogether. That said, the SPX has now triggered all of these guidelines for a full-fledged bear market and you should consider adjusting your strategy based on that analysis. There is money to be made but not on the long side of the market for now.



---
Billy Williams
Billy Williams has been trading the markets for 27 years, specializing in momentum trading with stocks and options.
Company:
StockOptionSystem.com
E-mail address:
stockoptionsystem.com@gmail.com

Traders' Resource Links

StockOptionSystem.com has not added any product or service information to TRADERS' RESOURCE.
---
Click here for more information about our publications!
Comments
PRINT THIS ARTICLE