PRINT THIS ARTICLE
OVERBOUGHT OVERSOLD
---
Is RR Donnelley Short-Term Oversold?
08/04/11 09:22:18 AM
---
by Donald W. Pendergast, Jr.
---
Even when a stock gets hammered, there are often brief rebounds back up toward key resistance levels that skilled traders can learn to profit from.
Security:
RRD
Position:
N/A
The recent selloff in the broad US markets has been quite dramatic of late, causing traders and investors of all persuasions to tune in for all the live-action market mayhem caused by the long-running budget debacle. One stock in particular has really been beaten down, and that happens to be RR Donnelley and Sons (RRD) (Figure 1). Not even a fine Irish name like that was able to stop the market from dumping the stock as quickly as possible over the last three trading sessions. On Wednesday, August 3, 2011, the stock gapped seriously lower before staging a fairly amazing intraday reversal. What might we expect in the next few sessions from the stock of this printing giant?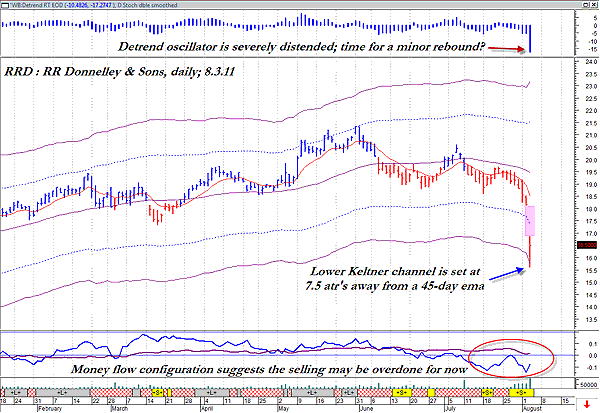 FIGURE 1: RRD, DAILY. Allowing for the market to make a two- to three-day rebound rally attempt here looks like a fairly safe assumption, given the number of days the market has been down during the last 10 trading sessions.
Graphic provided by: MetaStock.
Graphic provided by: CS Scientific Expert Advisor from MetaStock.
Glancing at the daily chart of the Standard & Poor's 500 revealed a major intraday washout/reversal candle, one that suggests at least a bit more follow-through to the upside through the remainder of this week. Running the Deel oversold/reversal screen in MetaStock's explorer on the 500 component stocks in the .SPX also highlighted the massive selloff in RRD and several dozen other large-caps.

In the case of RRD, we find that the gap selloff brought prices down into the area of the lower Keltner channel (set at 7.5 standard deviations away from a 45-day exponential moving average) even as the stock's long-term and shorter-term money flow configuration (see bottom of chart) seems to be remaining in the neutral to mildly bullish zone. At the very top of the chart, we also find that the WB Detrend oscillator is extended southward to an area that it hasn't seen since March 2009's market bottom.

RRD may have made a short-term bottom, one that definitely needs a retest before assuming that the stock is due for any length of a sustained rally. In the meantime, short-term opportunists and daytraders might consider the possibility of buying intraday pullbacks with the intent of selling if the open gap gets anywhere close to being filled.


True pragmatists might instead look to go short shares of RRD once the stock nears (assuming it tries to, anyway) closing the gap, attempting to ride the stock at least part way down toward Wednesday's reversal low of $15.59.

With the stock so apparently overextended and due for at least a bounce to resistance (the upper area of the open gap), this looks like a better "Wait and see what happens if the gap fails to close" short setup than a "Let's play a bullish bounce" kind of deal. The choice, as always, is yours to make, so plan your trade wisely, use modest position sizing, and if you have any doubts at all, please just stay out on the sidelines, waiting for a lower-risk trade setup to appear.


---
Donald W. Pendergast, Jr.
Donald W. Pendergast is a financial markets consultant who offers specialized services to stock brokers and high net worth individuals who seek a better bottom line for their portfolios.
Title:
Writer, market consultant
Company:
Linear Trading Systems LLC
Jacksonville, FL 32217
Phone # for sales:
904-239-9564
E-mail address:
lineartradingsys@gmail.com

Traders' Resource Links

Linear Trading Systems LLC has not added any product or service information to TRADERS' RESOURCE.
---
Click here for more information about our publications!
PRINT THIS ARTICLE