PRINT THIS ARTICLE
---
Using the Bearish Sentiment Index
04/05/02 09:29:33 AM
---
by Gary Grosschadl
---
Have we evaded another wave of extreme pessimism? Traders and investers like to monitor sentiment indicators. One of the longer standing ones is the Bearish Sentiment Index that measures the sentiment of investment newsletters. Started in the sixties, it's best used as a contrarian indicator. When too many people think the market will go up, it goes down, and when too many people think it will go down, it goes up.

Security:
N/A
Position:
N/A
This interesting chart from chartoftheday.com suggests surprisingly, too much optimism still exists and we really haven't hit those previous levels of extreme pessimism that would signal a bottom. Might this currrent optimistic reading be an anomoly related to younger advisory service analysts who haven't experienced the same number of bear markets of the past? Or is it a function of coming off such an overheated bullish phase?


The Bearish Sentiment Index, published by Investors Intelligence, surveys 140 financial newsletter writers on a weekly basis and calculates their "Percent Bulls" by simply taking the total number of bullish writers divided by the total surveyed. When 65% of newsletter writers are bullish, it is a sign of extreme optimism and a contrarian expects the market to go down. Likewise when only 35% of these same writers are bullish, it is a sign of extreme pessimism which signals to the contrarian thinker that the market will soon turn.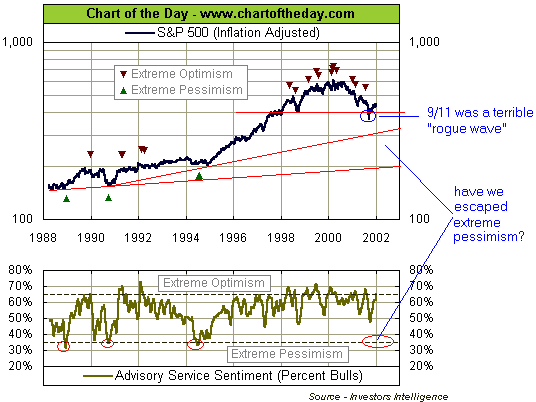 Figure 1: Investors Intelligence's Bearish Sentiment Index. I wouldn't want to see it, but another rogue wave somewhere in the world could bring a deeper wave of pessimism. I've added some trendlines as food for thought.
Graphic provided by: chartoftheday.com.
Like many indicators it has its times when it is more significant and other times it fails to hold true. It is not meant to be a standalone indicator...what indicator is? To quote Martin Pring's book 'Investment Psychology Explained': "The indicator is far from perfect. Sometimes it is right on the mark and sometimes very early. It therefore makes more sense to use it as a complement to other measures of market sentiment and contrary opinion."



"Rogue waves" itself is sea terminology, referring to the natural phenomena of an unusually large wave occurring, as in the movie "The Perfect Storm." It is totally unpredictable, like a mini tsunami. So in a stock market context it would be an unforeen event that shakes up the marketplace-- a nasty surprise and the market hates surprises. And it might just take an unforseen event, another nasty surprise, for this sentiment index to register an extreme pessismistic reading of 35% bullishness.



Let's hope the worst is behind us because to hit those low 35% numbers would mean another rogue wave is out there. But based on this indicator, there appears to be an abundance of bullishness and that in itself means there may well be another bottom retest in the making.


---
Gary Grosschadl
Independent Canadian equities trader and technical analyst based in Peterborough
Ontario, Canada.
---
Click here for more information about our publications!
Comments
Date:
 04/25/02
Rank:
 4
Comment:
PRINT THIS ARTICLE