PRINT THIS ARTICLE
TRADING SYSTEMS
---
AK Steel Dropping Like A Ton Of Lead
07/27/11 09:14:22 AM
---
by Donald W. Pendergast, Jr.
---
In a surprising selloff, after gapping lower at the open, AK Steel proceeded to shed another $2 per share before the session was over. Is this a portent of things to come?
Security:
AKS
Position:
Sell
It's hard not to notice when a stock that's around $15.50 per share ends up with a closing value of $12.81 only 24 hours later. That's what makes this particular Rahul Mohindar oscillator (RMO) swing sell signal so interesting in shares of AK Steel (AKS) right now -- the balance of momentum has been so heavily distorted to the sell side of the equation that it's difficult to locate even a single bullish technical indication on its daily chart (Figure 1). Here's a closer look now.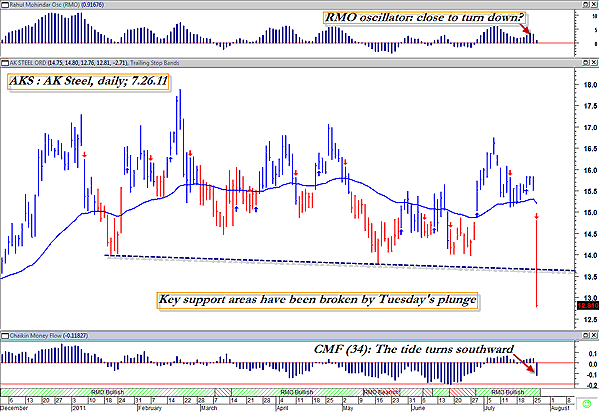 FIGURE 1: AKS, DAILY. Whenever a major area of support is taken out by a shocking selloff, look for a possible retest of the lower side of the support price zone.
Graphic provided by: MetaStock.
Graphic provided by: Rahul Mohindar (RMO) tools from MetaStock 11.
Apart from the devastatingly wide-range, gap-lower daily price bar that was created on Tuesday, July 26, perhaps the most noticeable feature on the AKS daily chart is the violation of a major area of price support -- the area between $14.00 and $13.79 is now history, with the next big support zone coming in at around $12.08 to $11.96.

In the medium term, the Chaikin money flow (CMF)(34) has definitely been affected by Tuesday's plunge (see the histogram at the bottom of the chart) and the RMO has also been withering, inching toward the neutral zone. Overall, this is a very bearish picture, and wise traders might wish to only consider trading AKS from the short side until some vitally bullish news hits this particular chart, and in a big way.



FIGURE 2: BID-ASK. Bid-ask spreads in the September AKS $13 puts are very good. Buying puts with at least a couple months of life helps ensure that time decay won't eat away too much of the potential for profit before the expected price move finally occurs.
Graphic provided by: Thinkorswim.
Buying a September $13 put option in AKS will set a trader back about $1.05 (that's $105 before commissions and slippage), and with the way this stock dropped today, it almost seems likely to expect some more follow-through on the downside soon (Figure 2). However, since there is frequently also a minor relief rally (sometimes lasting only for a day or two) in a stock after such a drop, wise traders might actually stand to get a much better deal on this particular put by waiting for a minor pop back up toward the $13.50 to $13.80 level before loading up on a position.

AKS has very poor 13-week relative strength versus the Standard & Poor's 500 (.SPX) and that may be yet another compelling reason to consider engaging this particular put option play. Be patient, pick your spot, and only trade with funds that aren't essential to cover your day-to-day living expenses or other critical long-term expenditures like that of a home or college education. It is good advice, and one can't stress this fact to new traders enough.


---
Donald W. Pendergast, Jr.
Donald W. Pendergast is a financial markets consultant who offers specialized services to stock brokers and high net worth individuals who seek a better bottom line for their portfolios.
Title:
Writer, market consultant
Company:
Linear Trading Systems LLC
Jacksonville, FL 32217
Phone # for sales:
904-239-9564
E-mail address:
lineartradingsys@gmail.com

Traders' Resource Links

Linear Trading Systems LLC has not added any product or service information to TRADERS' RESOURCE.
---
Click here for more information about our publications!
PRINT THIS ARTICLE