About a month ago, I wrote an article titled "Two Reasons To Buy The USD/JPY." I showed a bottoming tailbar reversal pattern based on the daily chart for a swing trade. This time, I will show how the same pattern, based on the five- and 15-minute charts, are just as effective for daytrading. I took my initial entry based off the five-minute chart, but the 15-minute chart is what gave me the confidence to increase my share size, and where the real power of this move is best demonstrated.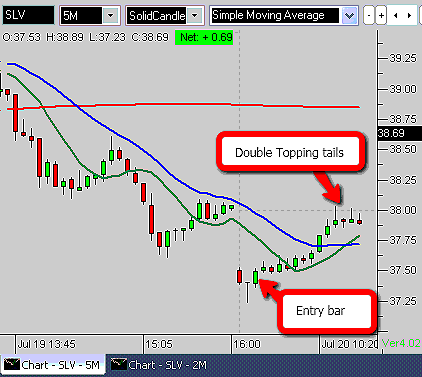 FIGURE 1: SLV, FIVE-MINUTE
Graphic provided by: Blackwood Pro.
Looking at the five-minute chart of SLV (iShares Silver Trust), you can see where my initial entry was taken at $37.41, when the bottom tailbar's high of $37.40 was taken out. My stop is placed one cent below the low of the bottom tailbar at $37.22. That gives me a 19-cent risk on this trade. Assuming a $100 risk amount per trade, I can buy 530 shares, which I round down to 500 shares to keep an even lot size and to account for slippage and trade costs (0.19 times 500 equals $95). My initial target is the area of the whole number of $38, which is also the prior day's close. See Figure 1.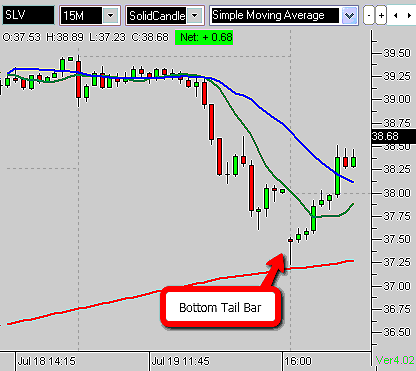 FIGURE 2: SLV, 15-MINUTE. Bottom tailbar bouncing off a 200-period SMA (red) and far from the 20-period SMA (blue) is a powerful reversal signal.
Graphic provided by: Blackwood Pro.
Now let's look at the 15-minute chart (Figure 2). This is where the reversal signal is more clearly defined. See how the bottom tailbar is far from the 20-period simple moving average (SMA) blue line. In addition, see how the bar, at its low, is bouncing off the 200-period SMA (red). What this shows so clearly is a bearish gap down on the open and a bearish red bar bouncing off major support, which completely reverses the bearishness. It shows a major capitulation of the bears and a definite change in sentiment over to the bullish side. Remember, large bars and bars that show major change are not made by retail traders like you and me; they are only made by large institutions. What I try to do is ride the coattails of the major players, and this bottom tailbar is a definite indicator of which way the majors are moving.


This pattern is so powerful that it gave me the confidence to add to my position when the 15-minute bottom tailbar's high of $37.53 is taken out. I added another 300 shares at $37.54, which brings my total share size to 800 shares, at an average cost of $37.46. I also move my stop to $37.35, which is one cent below the initial entry bar. Now I have an 11-cent risk on 800 shares, which reduces my risk on this trade from $95 to $88. So I have added share size while reducing the initial risk. This is how to really turbocharge your profits.


Looking back at the five-minute chart, you see my initial profit target is reached, and I take half my position off at $37.98 when a topping tail forms and the price comes back under the whole number. When the second topping tail forms a lower high and again comes back under the whole number, I take the last half off at $37.90, which is also a break of the five-minute low of the previous bar. This leaves me with $384 profit which, divided by the risk of $85, gives me a 4.5-to-1 reward-risk trade. Very nice.