PRINT THIS ARTICLE
---
Stock Tips: Take 'Em Or Not?
07/20/11 09:12:24 AM
---
by Koos van der Merwe
---
You pay a visit to your dentist. With your mouth open as he inspects your teeth, he talks, nonstop, and passes on a stock market tip. Do you take it?
Security:
VRS-v
Position:
Accumulate
This is a question that many investors have to face, no matter how cautious one is.

One such share did catch my attention. Because I practiced pharmacy for close to 40 years during which time I studied the stock market, eventually becoming a futures trader and then a financial advisor, when Verisante Technology (VRS) gave a talk on their product, I went to listen. They said that they had developed a product that could identify melanomas on one's skin, just by scanning it. When I asked them whether they were developing the product to determine the presence of breast cancer, they kept quiet. This got me thinking that they were indeed heading toward that goal. Based on that thought, I bought 10,000 shares at $0.28.

Since then, the company announced that an endoscopic attachment aids in the early detection of lung, colon, cervical, and other cancers. When the price reached $0.60, I bought another 10,000 shares. Was I wrong with my gamble? Time will tell. Had I followed the standard strategy, I should have sold my original investment and allowed profits to rise, but ... I am greedy. In addition, Warren Buffett has always said, know the company you are investing in, and buy and hold.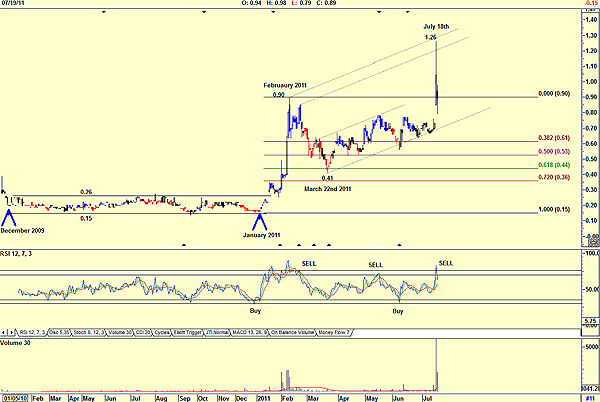 FIGURE 1: VRS, DAILY
Graphic provided by: AdvancedGET.
Figure 1 shows how the share price traded between $0.15 and $0.26 from December 2009 to January 2011 before moving up strongly to a high of $0.90 by February 2011. Why? The answer is that their product was probably accepted by the medical community as effective. The break above the $0.26 trendline would have given a buy signal, which is when I bought. Note that the fall from that level to $0.41 by March 22 was a 61.8% retracement. Did I sell at $0.90? Yes, I sold the 10,000 shares I had bought at $0.60, but kept my initial purchase of 10,000 shares at $0.28. Hindsight tells me I should have sold, and bought back at $0.41, but I did not, because my gut told me to hold onto my original thought ... a device for early warning breast cancer. However, I did buy back the 10,000 shares I had sold.

From March 22, the price has been gradually rising and I would look at the share price happy with my purchases, prepared to hold long term. Then, on July 18, the share price jumped to $1.26 on very high volume. The company immediately issued a news report that they could not account for the sudden jump in the price. The price promptly fell on that report, and is currently trading at $0.85.

Why the jump in price? Is it insider trading and was their announcement to show their innocence? Has the FDA acknowledged their product, with an announcement still to come? Have they indeed found that their product can detect breast cancer early? Who knows. The jump in price could even be a mutual fund buying the share for the same reason I did, they like the company and the company's product. They are prepared to do a Warren Buffett action.

Sometimes buying a penny stock can pay off, as what I did with Verisante Technology, but two lessons should be kept in mind: Know the company well before you buy, and do not fall in love with the stock. Always take your initial investment off the table as soon as you can, and allow your profits to rise.



---
Koos van der Merwe
Has been a technical analyst since 1969, and has worked as a futures and options trader with First Financial Futures in Johannesburg, South Africa.
| | |
| --- | --- |
| Address: | 3256 West 24th Ave |
| | Vancouver, BC |
| Phone # for sales: | 6042634214 |
| E-mail address: | petroosp@gmail.com |
---
Click here for more information about our publications!
Comments
PRINT THIS ARTICLE