By using a diverse set of technical tools, traders and investors can more easily learn to spot prime setups in the financial markets. Here, I combine the power of a custom-designed template in MetaStock 11 (end of day) with the trend pattern scanning feature in TimBukOne's Advanced Chart Pattern Recognition (TBO ACPR ED) software. Here's a look at a possible trading/investing opportunity in shares of Pfizer (PFE) that was identified by both software packages. See Figure 1.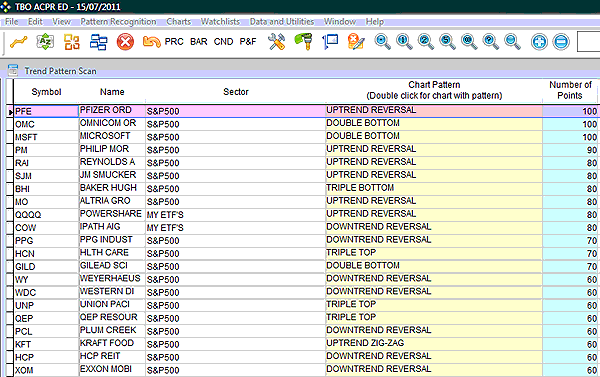 FIGURE 1: SOFTWARE SCAN. TimBukOne's pattern recognition software scan will identify and rank each type of pattern that it locates in your stock, futures, or forex database. The data for this scan was imported from my MetaStock 11 S&P 500 folder.
Graphic provided by: TimBukOne's Advanced Chart Pattern Recognition.
First, TimBukOne's TBO ACPR ED was run on my database of Standard & Poor's 500 stocks, searching for all stocks that have printed any of the following identifiable chart patterns:

* Double bottom
* Double top
* Triple bottom
* Triple top
* Downtrend zigzag
* Downtrend reversal
* Uptrend zigzag
* Uptrend reversal

Running the scan produced a fairly large list of candidates, each one rated by the software on a scale of 50 to 100, with 100 being the strongest possible pattern ranking. Next, I brought the strongest stocks to the top of the list, of which PFE was one listed in the uptrend reversal category. Double-clicking on the stock's ticker symbol brought up the daily chart for PFE, complete with the pattern's channel lines already plotted. This particular pattern seeks to identify a stock that has already made a significant top, followed by an equally significant reversal, one that has also violated a previous swing low occurring after the major high was made.

The TimBuk One software did a great job in identifying the reversal in PFE, and since it is still early in the reversal process, my next step was to bring up the same daily chart of PFE in my MetaStock end-of-day (EOD) software, this time plotting it with one of my favorite custom-designed templates -- one that features the Aroon and the relative strength index (RSI) indicators along with the 20- and 50-period exponential moving averages (EMAs). if any template is going to help me identify a strong trend, then this is the one most likely to find it and confirm it. See Figure 2.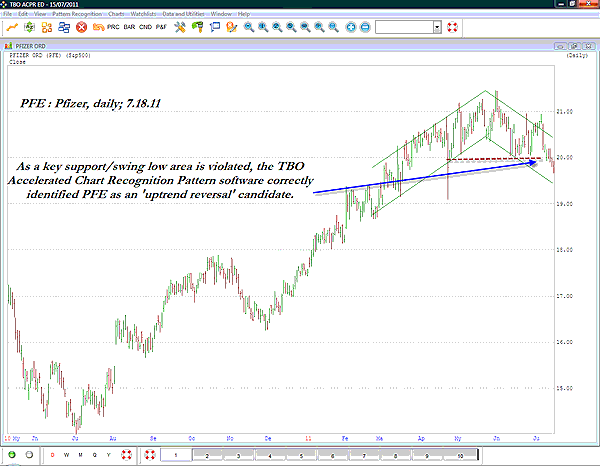 FIGURE 2: PFE, DAILY. The TimBukOne chart pattern software will automatically plot the channel, trend, and support resistance lines for the patterns you instruct it to locate. The dashed red line was added by the author as an additional highlight.
Graphic provided by: TimBukOne's Advanced Chart Pattern Recognition sof.
Above, you see the Aroon template for PFE, and, sure enough, the AroonDown (7) is pegged at 100 (its maximum possible bearish reading) even as the 14-period RSI is down to 35.60 and falling (Figure 3). Adding more fuel to the bearish equation is the fact that the red 20-period EMA has just crossed the slower blue 50-period EMA, and the spread is just beginning to widen noticeably. So, we have definitely located a stock that has made a significant trend reversal and that is also exhibiting a substantial amount of increasing downside momentum. Now what?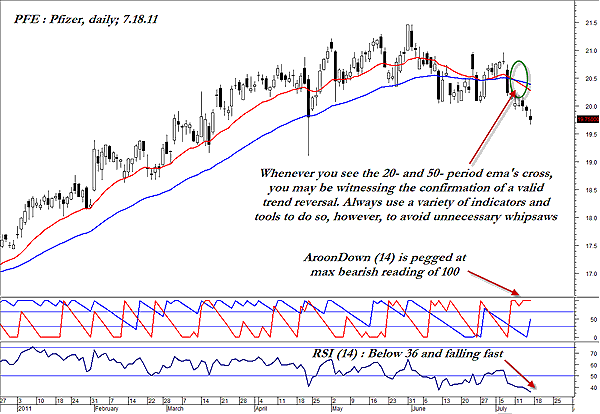 FIGURE 3: PFE, DAILY. Once you've identified a meaningful pattern, your next job is to confirm it using a variety of useful technical tools. Here, a custom-designed MetaStock template featuring the Aroon and RSI along with the 20- and 50-period EMAs have been utilized, and they do indeed help confirm the uptrend reversal status identified by TimBukOne.
Graphic provided by: MetaStock.
Well, you may have more than a few options here. You might decide to:

* Buy a slightly in-the-money put option with two to three months of time value remaining, hoping to capitalize on the stocks new downtrend status.
* Wait for a significant intraday pullback to a key support level (major moving averages, floor trader pivots or Fib confluence levels) on its 15- to 30-minute chart, seeking to short the stock in anticipation of further downside pressure.
* Really insane traders could even consider selling a near-term, out-of-the-money call option, but only if they clearly understand the risk-reward ratio of such a trade before taking the plunge.

The choice, ultimately, as with everything else in life that you must deal with, lies with you. Do your best research and analysis and then also carefully think everything through before placing this or any other trade you may be considering.