PRINT THIS ARTICLE
STRATEGIES
---
Dollar Poised To Move Up
07/19/11 08:29:42 AM
---
by Mike Carr, CMT
---
Markets climb a wall of worry, and few markets are more worrisome than the US dollar.
Security:
DX
Position:
Buy
Wall Street analysts like to say that the stock market climbs a wall of worry, and there may be something to that old saying. Stocks have more than doubled since their March 2009 lows and the news has been bad that entire time. The financial crisis seemed to be getting worse as prices reached what proved to be their lows. Since then, analysts have worried about corporate profits, European debt, and many other things that have proven to be irrelevant to prices.


The US dollar faces similar critics. Many worry that Fed policy is inflationary and insist that will hurt the dollar. Quantitative easing policies are just another way to lower the value of the dollar, some think, so the country can export its way out of its economic doldrums. Squabbling politicians, others contend, are damaging the reputation of the dollar, which will drive it lower.


These concerns may be well founded; the dollar fell more than 19% during the 12 months after its May 2010 highs. But since the beginning of May, the news has gotten worse and the dollar has quietly moved higher. Now about 3% above the May 2011 lows, the dollar is showing signs of further gains.


Volatility, as measured by Bollinger Bands on a weekly chart (Figure 1), is at their lowest level since January 2010, when the market began a 15% climb.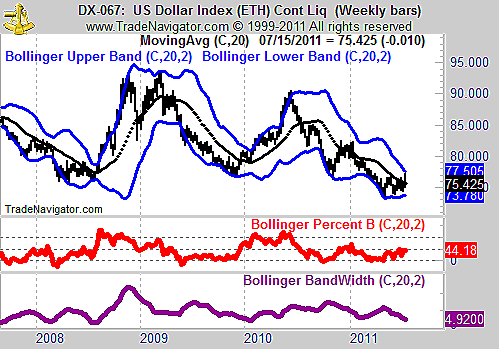 FIGURE 1: US DOLLAR INDEX, WEEKLY. Bollinger BandWidth offers one way to measure volatility, and in this chart we can see it has reached its lowest level in 78 weeks.
Graphic provided by: Trade Navigator.
Traditional technical tools like the relative strength index (RSI) and the moving average convergence/divergence (MACD) support higher prices in the dollar. Sentiment, measured by Commitments of Traders data for large speculators, is bullish. The dollar has shown strength in the face of negative news over the past two months, and further strength is likely in the months ahead.


---
Mike Carr, CMT
Mike Carr, CMT, is a member of the Market Technicians Association, and editor of the MTA's newsletter, Technically Speaking. He is also the author of "Smarter Investing in Any Economy: The Definitive Guide to Relative Strength Investing," and "Conquering the Divide: How to Use Economic Indicators to Catch Stock Market Trends."
---
Click here for more information about our publications!
PRINT THIS ARTICLE