The flow of capital can take a market that has been crawling around in squalor and transform it into a tremendous force whose price action leads to expansionary moves that a skilled trader can capitalize on. This is because as investors shift their capital in the pursuit of superior returns with respect to the inherent risk involved, the inflow of both capital and trade volume makes it possible for one side -- the bulls or the bears -- to gain a footing in the market's price action and take control of the trend. While the dog days of summer have certainly played out as historical seasonal patterns have dictated, now July is upon us and, as a result, carries with it new changes as well as new possibilities for profitable trades.

During July, new capital inflows from the year's half-point begin to pour into the hands of the major trading houses, mutual funds, and pension funds. This excess capital gives the short-term impression that a summertime rally is in play. See Figure 1.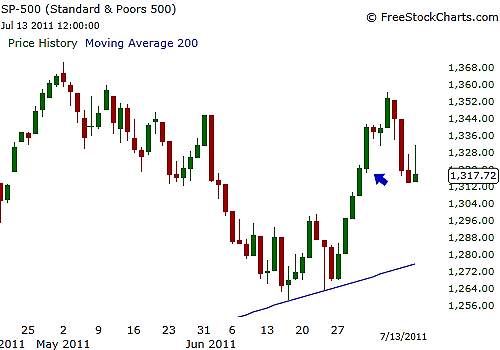 FIGURE 1: S&P 500. As July began, it appeared that the SPX would rally to a significant price high but is now languishing even as new capital flows into the market at the year's half point, which can signal weakness.
Graphic provided by: www.freestockcharts.com.
In addition, the first months of a given quarter tend to be bullish, which can cause you to believe a bullish trend is on the make but, unfortunately, nothing could be farther from the truth.

Most years, especially when the market tends to sell off during the first half, traders on Wall Street begin to anticipate a summer rally. In July, the best-performing month of the summer season, such a big deal is made about the summer rally that one might get the idea that the summer is the best-performing season for the stock market, but this is not the case at all. While the market may rally in force at the end of every season, the summer is the weakest.

According to the "Stock Trader's Almanac," studies show that winters alone produced a 13% gain, measuring from the low in November or December to the first-quarter closing high for the last 47 years. See Figure 2.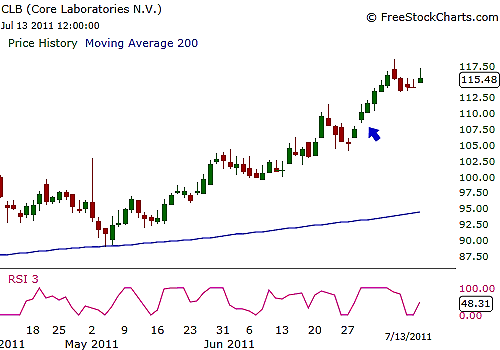 FIGURE 2: CLB. While the SPX may struggle, CLB has been a strong-performing stock that upon July's arrival has punched to a new all-time high. CLB has all the fundamental and technical traits to emerge as a stock leader to take the market higher.
Graphic provided by: www.freestockcharts.com.
However, it's important to point out that while you should and need to remain cautious during July, the fact is that July does offer some explosive price action that has a bullish bias, and you should plan on taking advantage of that bias.

While the market has been lackluster, you can begin by finding stocks that have held up and are trading close to their price highs. Scan the market for stocks with high relative strength compared to other segments of the market but still have respectable 20-day volume averages of over 250,000 shares traded daily. Typically, you can look for stocks that trade at a 100,000 daily average, but during the month of July, volume tends to thin out and you want to maintain the ability to move in and out of the market so as to not get stuck in a sudden price move against you while overall interest and involvement remains low.



Finally, pay close attention to stocks that are trading at their all-time price highs. According to a study by Blackstar Funds, stocks that trade at or near their all-time highs are likely to emerge as stock leaders, leading the way higher for the market as a whole. They also have less overhead resistance to encounter as they go on to make higher highs and higher lows as their trend becomes bullish, trading to new highs.