PRINT THIS ARTICLE
RATE OF CHANGE
---
Mid-Caps Point To More Upside
07/12/11 08:15:02 AM
---
by Mike Carr, CMT
---
Healthy bull markets are usually led higher by mid-cap stocks.
Security:
MDY
Position:
Buy
Many investors believe that small-cap stocks are the biggest long-term winners in the stock market. A number of studies document this as a fact when small-caps are tested relative to large-cap stocks. However, over time, mid-cap stocks have delivered the best returns. This may be nothing more than a historical fluke based on survivorship bias, but traders often don't focus on why something is if it can help them profit.


Over the past six months, growth stocks have beaten value stocks and mid-caps have outperformed small-caps. Large-caps have delivered smaller gains over that time. With the markets sharply higher after a quick decline, mid-caps can help traders decide whether the decline was a pullback or the first wave of a bear market.


The daily chart of the S&P 400 Citigroup Pure Growth (Figure 1) shows that the index broke to a new high and is just above the record level reached in May. Rate of change (ROC) is now overbought, having broken above the upper Bollinger Band.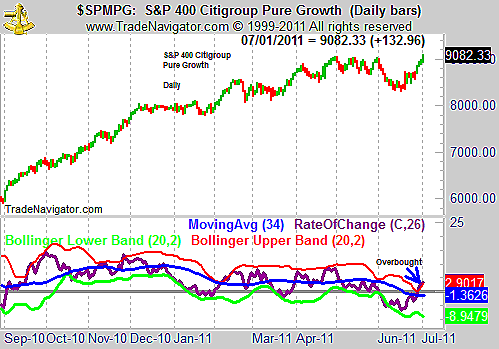 FIGURE 1: S&P 400 CITIGROUP PURE GROWTH, DAILY. Rate of change shows that momentum has confirmed the recent upward price move.
Graphic provided by: Trade Navigator.
Overbought markets can remain overbought for an extended period of time. The fact that a market is overbought does not always mean "Sell." A higher time frame can reveal clues about whether the overbought condition is likely to lead to a reversal or further gains. The weekly chart of the S&P 400 Citigroup Pure Growth (Figure 2) shows that the ROC is far from overbought and is rebounding from an oversold condition.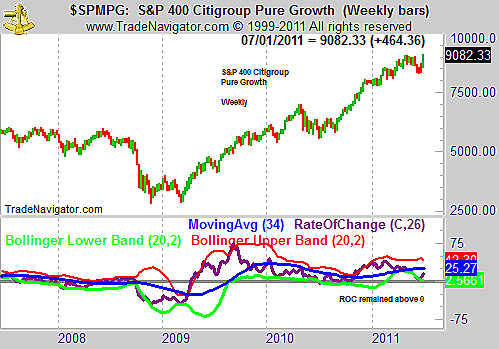 FIGURE 2: S&P 400 CITIGROUP PURE GROWTH, WEEKLY. The weekly chart offers a longer-term perspective and can help traders see the bigger trend.
Graphic provided by: Trade Navigator.
After the sharp decline and even sharper rebound, momentum points to even more gains in the stock market, with mid-caps leading the way higher.


---
Mike Carr, CMT
Mike Carr, CMT, is a member of the Market Technicians Association, and editor of the MTA's newsletter, Technically Speaking. He is also the author of "Smarter Investing in Any Economy: The Definitive Guide to Relative Strength Investing," and "Conquering the Divide: How to Use Economic Indicators to Catch Stock Market Trends."
---
Click here for more information about our publications!
Comments
PRINT THIS ARTICLE