PRINT THIS ARTICLE
STRATEGIES
---
How To Use Stock Options With Momentum Stocks For Enhanced Profits
07/11/11 08:51:26 AM
---
by Billy Williams
---
Momentum stocks tend to be leaders in the stock market, taking it to higher highs while also being favored stocks by traders and investors alike. However, using stock options, you can enhance your profits with momentum stocks by following a few guidelines.
Security:
BIDU
Position:
Hold
Momentum stocks have been proven to be the strongest stocks that lead the stock market to new highs while proving themselves to be solid growth stocks in any investment portfolio. It's not uncommon to have 50% to 100% gains in a stock market leader. Combined with stock option trading allows even the average investor superior leverage and risk control.

Determining which stocks are set to explode in share price is done by using simple price pattern recognition within the stock's price movement. These include looking for price gaps in the direction of the trend, new highs in price, strong closes in the daily price bars where price closes in the upper 25% of the day's range, and watching for thrusts or wide range bars that are twice the range of the previous five days' range. All of these patterns show strength in the direction of the trend, so take note of how many times you locate these price patterns over a period of weeks and they will give you an indication of a potential breakout to the upside. See Figure 1.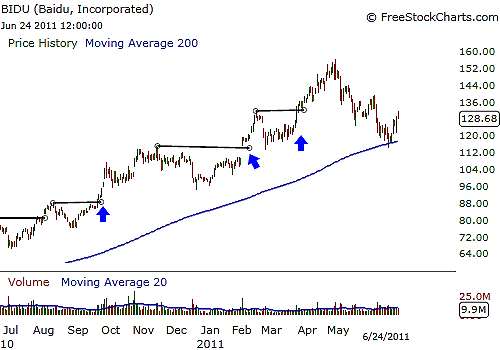 FIGURE 1: BIDU. BIDU has been making a steady series of new all-time price highs that could be timed with stock options to profit from the new swings in price for leveraged profits.
Graphic provided by: www.freestockcharts.com.
It's also worth noting that stocks that are trading near their all-time price highs are likely to outperform the market, according to studies done by BlackStar Funds. In its research, the company found that stocks trading near their all-time highs are likely to experience less overhead resistance and continue in the path of bullish trends.


While you can trade bullish or bearish in a stock, it's important to point out that a bullish trend theoretically can continue upward indefinitely, while shorting a stock is limited since it can only go to zero. However, using options to capture the intermediate price swings can enhance profits with their superior leverage versus trading the stock outright.


Since momentum runs are a symptom of price expansion, you want to ideally latch onto a stock that fits the criteria and price movement as it trades upward, making new all-time highs. As it confirms its upward movement, you want to go long a call option with a high delta reading of at least 0.80 and 30 days left till expiration on the option itself. This combination of factors puts you in a strong position to exploit the explosive momentum of the stock and rack up strong gains with your options while also minimizing your risk to just the cost of the premium of the option's purchase.


By combining these two instruments, you can achieve superior returns by taking the time in developing your skills by applying these guidelines and mastering the concepts. Take it slow and study price charts by spending some time observing price action for some of the price patterns presented in this article, which will train you to have an eye for fast-moving stocks that carry options on them. In addition, practice on how to time your entries with stock options and, over time, you can begin enhancing your overall performance while reducing your risk when combining momentum stocks and option trading.


---
Billy Williams
Billy Williams has been trading the markets for 27 years, specializing in momentum trading with stocks and options.
Company:
StockOptionSystem.com
E-mail address:
stockoptionsystem.com@gmail.com

Traders' Resource Links

StockOptionSystem.com has not added any product or service information to TRADERS' RESOURCE.
---
Click here for more information about our publications!
Comments
PRINT THIS ARTICLE