PRINT THIS ARTICLE
SUPPORT & RESISTANCE
---
BSX : Breakout Beckoning?
06/23/11 08:48:28 PM
---
by Donald W. Pendergast, Jr.
---
After a recent sell-off, Boston Scientific shares have seemingly found, and made a rebound from a key support level; can this stock reclaim the recent highs - and beyond?
Security:
BSX
Position:
Accumulate
Boston Scientific shares (BSX) have been chopping up and down in a major consilidation pattern for the better part of six months now, with a recent nasty shock sell-off also being part of the deal. Hoever, the stock does seem to have gained some solid footing after clashing with the strong support level at $6.50, and may actually be preparing to make an assault to levels above the nearby $7.19 resistance level. Here's a brief look at this potential long setup now.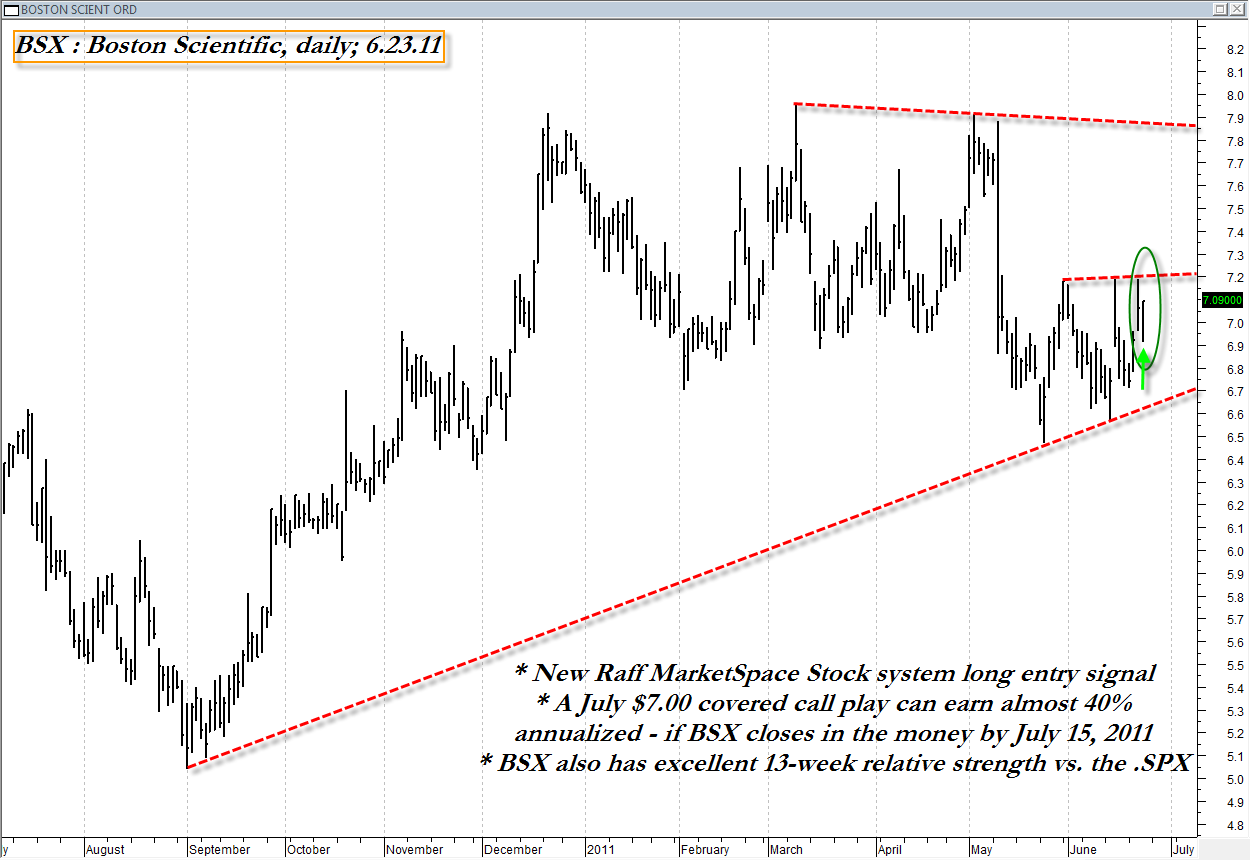 Large cap stocks with clearly defined support/resistance levels and liquid option chains tend to make the very best covered call candidates.
Graphic provided by: MetaStock.
The recent sell-off allowed a very nice, new up trend line to be plotted from the major September 2010 low; a small pennant is also forming, and it all appears to be a bullish technical layout. And since the stock has much stronger relative strength than the .SPX over the last calendar quarter (13-weeks), it might be a good short-term covered call candidate play.


The July 2011 BSX $7.00 covered call will generate nearly 40% annualized if the stock is called away by July 15, 2011, a mere 21 days from now; bid-ask spreads are close and option liquidity is also pretty good.

Managing the position might involve nothing more complicated than using that major red up trend line as a defacto initial/trailing stop indicator; in trading as in life, keeping things logical and simple really helps you keep your trading focus, especially once your money is on the line.


Covered call trading is a great way to get into the world of trading, as it doesn't require a day trading mindset, intraday charts or a computer screen in your face all day long, either. All you really need are liquid, large-cap stocks with strong momentum/comparative relative strength and call options with tight bid-ask spreads. Once you get comfortable with determining valid support/resistance zones on your charts, you should easily be able to determine which stocks are likely to be the best covered call material. Try it if you haven't already - you may be pleasantly surprised.


---
Donald W. Pendergast, Jr.
Donald W. Pendergast is a financial markets consultant who offers specialized services to stock brokers and high net worth individuals who seek a better bottom line for their portfolios.
Title:
Writer, market consultant
Company:
Linear Trading Systems LLC
Jacksonville, FL 32217
Phone # for sales:
904-239-9564
E-mail address:
lineartradingsys@gmail.com

Traders' Resource Links

Linear Trading Systems LLC has not added any product or service information to TRADERS' RESOURCE.
---
Click here for more information about our publications!
PRINT THIS ARTICLE