PRINT THIS ARTICLE
TRADING SYSTEMS
---
With JP Morgan Chase, Is Big Money Dumping Big Bank Stocks?
06/17/11 08:11:04 AM
---
by Donald W. Pendergast, Jr.
---
JP Morgan Chase shares keep getting hammered, and June 15's new sell signal hints at even more downside for the banking giant.
Security:
JPM
Position:
Sell
As far as major selloffs go, the recent four-month slide in JP Morgan Chase (JPM) shares from $48.36 to $40.68 doesn't seem too extreme, but the overall technical landscape for this financial heavyweight still suggests that caution is warranted before trying to pick a bottom soon, hoping for a fast rebound to new highs. Here's a closer look now.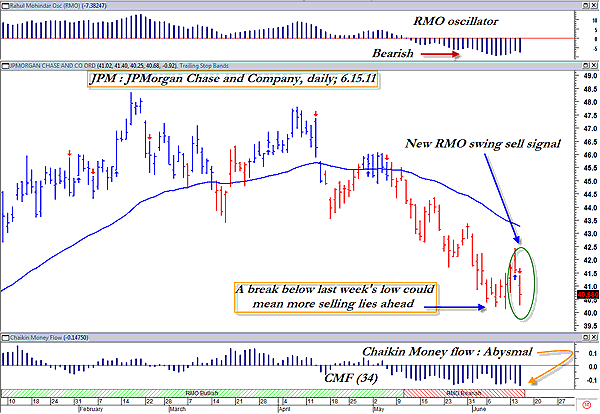 FIGURE 1: JPM, DAILY. With intermediate-term money flow displaying its worst reading since November 2008, it's hard for bulls to make a convincing case to buy JPM here. Going short or buying an August 2011 $40 put may be the best course of action right now.
Graphic provided by: MetaStock.
Graphic provided by: Rahul Mohindar (RMO) from MetaStock 11.
The very first thing that caught my attention on Figure 1 for JPM is the absolutely horrible intermediate-term Chaikin money flow (CMF)(34) readings in the stock. The histogram for this vitally important indicator is dropping fast and is approaching the values seen at the big November 2008 low during the panic phase of the global financial meltdown of 2007-09. Clearly, the big institutions (mutual funds, pension funds, and so forth) are uneasy with carrying on their love affair with JPM shares and seem more intent on planning ways to end the relationship than they are in kissing and making up.

Major chart support for JPM exists at the following price areas:

37.11 36.21 35.55

If you see Friday's low of $40.10 taken out on wide range and heavy volume, that could be a sign that JPM intends to run lower and attempt a retest of any and/or all of the above support levels in the next few weeks. With a new Rahul Mohindar (RMO) swing sell signal just having printed (green oval area on chart), the odds seem to favor at least some sort of a tradable move lower in the next few sessions, given all that was previously mentioned.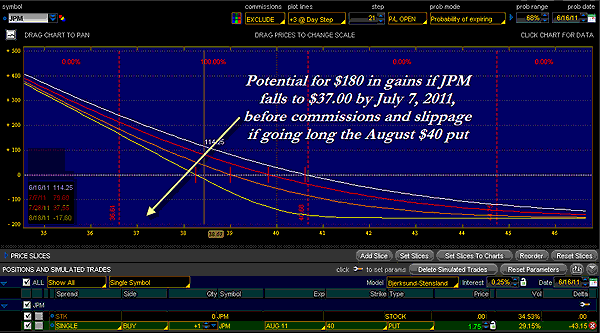 FIGURE 2: JPM PUT. A purchase of the August $40 JPM put for $1.75 or better could be an attractive proposition for skilled short-term option traders. Selling the put after a fast drop toward the $37 area might also be a very prudent decision.
Graphic provided by: Thinkorswim.
Buying an August 2011 JPM $40 put option looks kind of interesting in Figure 2; if you can buy it for $1.75 or better, you stand to earn almost $180 on a drop in JPM shares to the $37 area on or about July 7, 2011. Using $42.50 as an initial stop-loss and then protecting the stock with a three-bar trailing stop of the daily highs could be one way to protect against a sudden bullish reversal (short squeezes don't hurt long put option holders as much as it can those who are actually short the stock, at least in some cases, due to the delta aspect of option trading).

If you are blessed to see JPM move quickly toward any of the support zones after purchasing the August $40 put option, consider lightening up on your position or even closing it altogether so as to avoid having your open profits taken back by Mr. Market. He has a nasty rep for always trying to reclaim any gains you've made at his expense, and he rarely, if ever, plays fair. Protect yourself from his antics and take a reasonable profit when your stock is approaching an obvious area of heavy support or resistance. A word to the wise should be sufficient.


---
Donald W. Pendergast, Jr.
Donald W. Pendergast is a financial markets consultant who offers specialized services to stock brokers and high net worth individuals who seek a better bottom line for their portfolios.
Title:
Writer, market consultant
Company:
Linear Trading Systems LLC
Jacksonville, FL 32217
Phone # for sales:
904-239-9564
E-mail address:
lineartradingsys@gmail.com

Traders' Resource Links

Linear Trading Systems LLC has not added any product or service information to TRADERS' RESOURCE.
---
Click here for more information about our publications!
PRINT THIS ARTICLE