PRINT THIS ARTICLE
REL. STR COMPARATIVE
---
New Sell Signal For DNR As Broad Market Tumbles
06/07/11 08:15:45 AM
---
by Donald W. Pendergast, Jr.
---
Denbury Resources appear to only have just begun to initiate the second wave of a selloff that got under way in early April 2011.
Security:
DNR
Position:
Sell
For the past two months, the broad US markets have been playing a game of hide-and-seek with the majority of investors; the market has done its best to hide its true intentions, even as investors and traders have sought to seek out every clue as to whether the market was going to go on to new post-crash highs or plummet down to major support established in spring/summer 2010. One glance at the recent price action in the .SPX daily chart should have everybody's attention by now, however; the odds seem to be pointing to even more severe declines in the weeks and months ahead. One of the best ways to play a tanking market is to locate the weakest large-cap stocks that are giving historically reliable sell signals; one such stock is Denbury Resources, and we'll have a look at that now.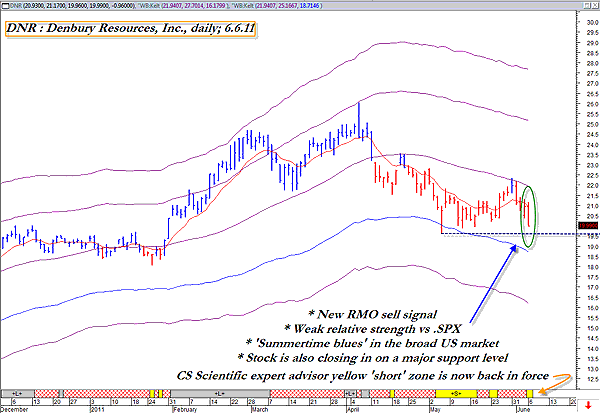 FIGURE 1: DNR, DAILY. Is this stock ready for a bounce off of support or is it ready to crash like a sledgehammer through that particular support area in the next few trading sessions? Stay tuned -- chances are this stock will reveal its intentions in relatively short order.
Graphic provided by: MetaStock.
Graphic provided by: MetaStock 11 CS Scientific expert advisor.
Using the Rahul Mohindar oscillator (RMO) trading system that comes standard in MetaStock 11, I ran the 500 component stocks from the .SPX to see which were giving sell signals and to also locate the weakest relative strength stocks among those firing such sell signals. Denbury Resources (DNR) is one of the weakest of the weak, and as we look at its daily chart (Figure 1), there seems little to stand in the way of those who wish to take a shot at this very promising looking short trade setup.

The CS Scientific expert advisor (yellow ribbon at bottom of chart) is clearly back in its yellow sell short zone, which is yet another plus for this RMO swing sell signal occurring in the midst of such recent market carnage. Also of note is the fact that the stock lies just a few cents above a key support level near the $19.50 area; a strong smash through this could really unloose some heavy selling pressures as disillusioned buy & holders throw in the towel in search of greener pastures.


Buying a July $20 put for about $1.05 or better might be a simple and cost-effective way to play DNR, should this train wreck really start to unravel in the days and weeks just ahead as the next significant support level doesn't show up until $18.05 to $17.90. If you buy this put, you may want to use Monday's high as the stop-loss for the position, and then protect any open profits (if it does drop) with a two-to three bar trailing stop of the daily highs. Of course, you can always try to short the actual shares of the stock, but you run the risk of a nasty short squeeze, dividend repayments and other annoyances that buying a simple put option is able to avoid.

Do some more research on this setup yourself and then you'll be able to come up with a better idea of how to position yourself, should DNR be on the cusp of a major decline.


---
Donald W. Pendergast, Jr.
Donald W. Pendergast is a financial markets consultant who offers specialized services to stock brokers and high net worth individuals who seek a better bottom line for their portfolios.
Title:
Writer, market consultant
Company:
Linear Trading Systems LLC
Jacksonville, FL 32217
Phone # for sales:
904-239-9564
E-mail address:
lineartradingsys@gmail.com

Traders' Resource Links

Linear Trading Systems LLC has not added any product or service information to TRADERS' RESOURCE.
---
Click here for more information about our publications!
Comments
PRINT THIS ARTICLE