Even though a stock is down by a substantial amount, it doesn't always find support at some magic number and then stage a recovery rally. In fact, if a stock is in a strong downtrend, sometimes it will just keep blowing through support level after support level as investor fears overwhelm any vestige of logic and rationality. This could also be true in the case of Juniper Networks (JNPR) at this point in market history, especially with the broad markets on the verge of a major correction. See Figure 1.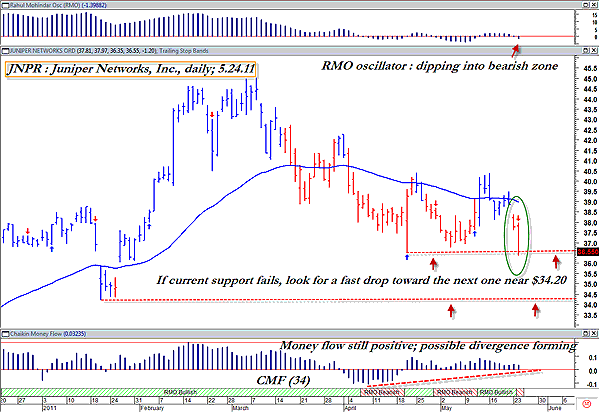 FIGURE 1: JNPR, DAILY. Support and resistance levels are one of the primary concerns of every serious stock and directional option trader; a very attractive, short-term sell setup may be right here, right now, especially on a break below $36.35. Wise traders may want to cover at least part of their shorts near $34.20, the April 20th low.
Graphic provided by: MetaStock.
Graphic provided by: Rahul Mohindar (RMO) indicator from MetaStock 11.
Of all the Standard & Poor's 500 stocks issuing Rahul Mohindar oscillator (RMO) sell signals on Tuesday, May 24, 2011, shares of Juniper Networks (JNPR) had the weakest relative strength versus the index during the past 13 weeks (one calendar quarter). You certainly didn't need to have that information available in order to confirm what your eyes had already confirmed -- the stock looks like it's ready to fall through the floor.

Tuesday's wide range, bearish bar was powerful enough to trigger an RMO swing sell signal, and with the stock also having already dipped below the April 20th low of $36.48 (on an intraday basis), there will be many sets of eyes fixated on JNPR's every move over the next few sessions. A clear closing break below Tuesday's low of $36.35 should really get the selling side of the equation going again, with prices potentially dropping quickly toward the early 2011 low at $34.20.

There is one bit of contrarian technical errata on the chart, too; note that the 34-period Chaikin money flow indicator is still in positive territory, suggesting at least a minor possibility of a divergence setup in the making. This should not necessarily deter traders from going short now, but it does suggest that setting a profit target might be a better way to go than to simply hope for a large trend-following move at this point. See Figure 2.




FIGURE 2: LONG PUT PLAY. Bid-ask spreads, option volume, and open interest in JNPR puts and calls is excellent. The July $37 long put play looks especially attractive here.
Graphic provided by: Thinkorswim.
Stock traders looking to jump on this new sell signal would probably be well-advised to take off half of their position should the January low of $34.20 be hit again, letting the balance of the position ride with a two- to three-bar trailing stop of the daily highs. Options fans might also consider buying a July 2011 JNPR $37 put, which is slightly in-the-money (ITM), also hoping for that quick ride down toward the $34.20 support level. If the stock can manage to do that by June 11, 2011, the put buyer will stand to earn around $120 in profits before commissions. If you do get that nice move south, be sure and count your blessings and then kiss the trade goodbye, as you don't want to let the potentially negative effects of greed, time decay, short squeezes, and/or volatility collapse destroy the value of the option, should you unwisely hold on too long, trying to milk every last bit of profit from it.

Option trading can be a lot of fun and very profitable, but you have to know when to call it quits and be satisfied with "good enough." Take that advice to heart, and it will serve you well in all your directional option trading adventures.