PRINT THIS ARTICLE
CORRELATION ANALYSIS
---
Did Gap Really Fall Because Of Cotton Prices?
05/23/11 08:10:34 AM
---
by Mike Carr, CMT
---
The announcement from Gap may reveal more about the economy than the company.

Security:
GPS
Position:
Sell
Retailer Gap (GPS) fell more than 17% after the company warned that higher prices for raw materials were going to hurt profits more than most analysts expected. One report said, "Gap management said late Thursday second-half product costs per unit, factoring rising cotton and other costs, are now expected to rise about 20%, more than it anticipated, as it began to purchase goods for the holiday season."


Cotton prices are more than 20% off their peak (Figure 1), but still more than 200% above 2010 lows. The rapid rise may be a little-noticed bubble, as many commodities have experienced. But based solely on the price chart of cotton, the argument that GPS could suffer from higher prices seems very plausible.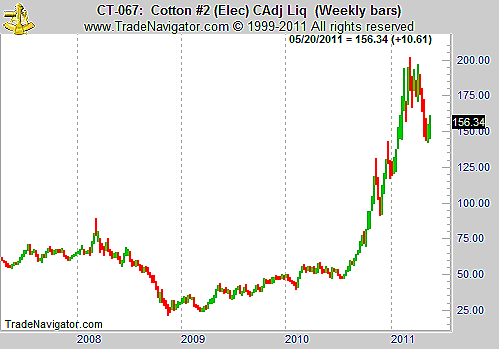 FIGURE 1: COTTON, WEEKLY. Cotton has declined over the past few weeks after a very sharp runup.
Graphic provided by: Trade Navigator.
Figure 2 shows the price of GPS along with cotton. History shows that the two have usually moved in the same direction.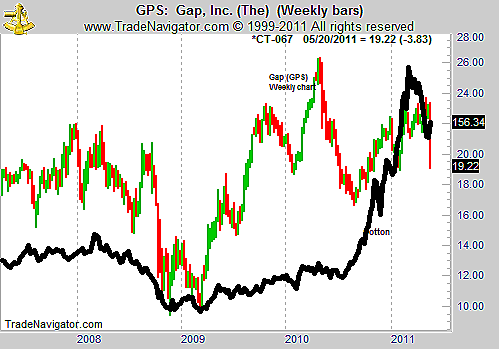 FIGURE 2: GAP, WEEKLY. GPS has generally trended in the same direction as cotton.
Graphic provided by: Trade Navigator.
Figure 3 presents the data in a different way, showing the percentage changes in GPS and cotton. The percentage swings have also been similar in the past. In 2010, cotton began a parabolic move and surged higher.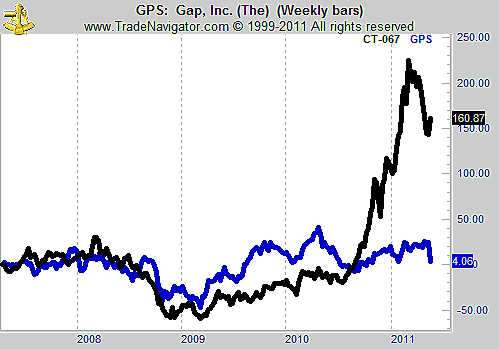 FIGURE 3: GAP, WEEKLY. The recent divergence between cotton and GPS is a historical anomaly.
Graphic provided by: Trade Navigator.
Profits at GPS are likely to suffer from higher prices of raw materials like cotton. But that is different than the past and that's what is important to note. Previously, the retailer seems to have been able to either pass on price increases to the consumer or dampen the impact based on the operational efficiencies. We seem to have reached a point where the company can't squeeze costs anymore, and the announcement may indicate that consumers will finally be facing higher prices.


---
Mike Carr, CMT
Mike Carr, CMT, is a member of the Market Technicians Association, and editor of the MTA's newsletter, Technically Speaking. He is also the author of "Smarter Investing in Any Economy: The Definitive Guide to Relative Strength Investing," and "Conquering the Divide: How to Use Economic Indicators to Catch Stock Market Trends."
---
Click here for more information about our publications!
Comments
PRINT THIS ARTICLE