I don't know about you, but I've given up on attempting to predict or time the markets. Trading a system can be the best way to avoid the trap of trying to call all of the unexpected twists and turns in the market. One simple way to use a system is to regularly monitor how many buys and sells it generates every day, across a range of large-cap stocks. For example, if you use MetaStock 11, you already have access to a variety of Rahul Mohindar oscillator (RMO) trading system explorations, expert advisors, and indicators -- and these tools can help you determine the health of the broad market. See Figure 1.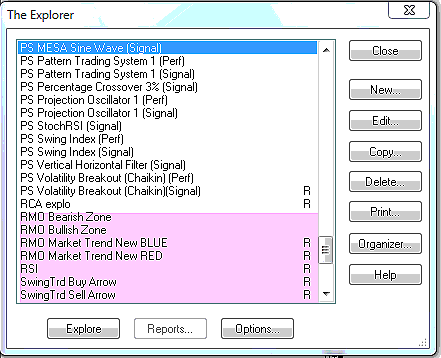 FIGURE 1: EXPLORATION. MetaStock 11 includes multiple RMO-related explorations, all of which can help make your market timing decisions easier.
Graphic provided by: MetaStock.
Graphic provided by: MetaStock Explorer.
For starters, just running the Standard & Poor's 500 (.SPX) component stocks through the MetaStock "Swing Trd Sell Arrow" and "Swing Trd Buy Arrow" explorations will give you an up close and personal view of the bias in the market toward either long or short trade entries on any given day. I ran the .SPX components with the Swing Trd Sell Arrow after the close on Wednesday and came up with the list of sell signals shown in Figure 2 -- 50 of them. I'll run it again on Thursday and see if the number of stocks on the sell side is rising or falling -- and do this day after day -- using both the swing buy and swing sell explorations.

Using a simple Excel spreadsheet to track the daily changes can help you build your own market bias index, one that might also prove to be a terrific external filter for the signals generated by the output of your own favorite trading system. Over time, you'll see patterns that often precede major market moves and trend reversals, and this can frequently be put to good use in your everyday trading routine.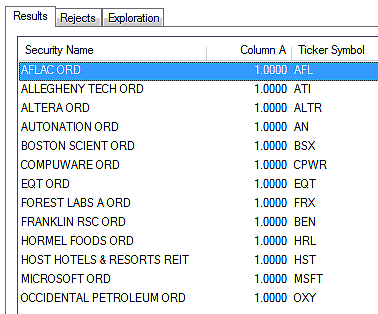 FIGURE W: RMO SWING TRADE SELL SIGNALS. For Wednesday, May 11, 2011 there were 13 RMO swing trade sell signals among the .SPX component stocks.
Graphic provided by: MetaStock.
Graphic provided by: MetaStock Explorer.
Finally, once you have the raw exploration output for both the buy and sell side of the RMO swing sell/buy system and have calculated the various ratios in your spreadsheet, you can then run the stocks through another exploration that will determine the 13-week rate of change calculation of the stocks included versus their parent (or any) index.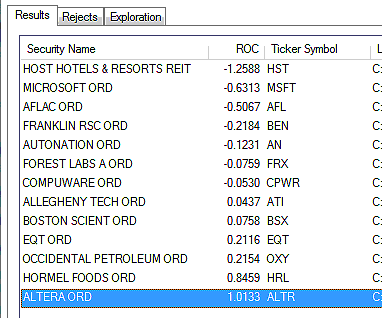 FIGURE 3: WEAKEST RELATIVE STRENGTH. Of those 13 sell signals, those with the weakest comparative relative strength versus the .SPX are listed at the top of this table.
Graphic provided by: MetaStock.
Graphic provided by: MetaStock Explorer.
So if you decide that the overall bias of the market (based on RMO signal output) is toward the short side, you'll want to focus on those stocks that are weaker than the broad market. You can see one such list in Figure 3, from Wednesday's RMO swing sell output; shares of Lexmark (LXK), Broadcom (BRCM), and Tellabs (TLAB) appear to be leading the way lower, based on weak relative strength rankings versus the .SPX. You may also want to do some more chart analysis along with some fundamental analysis before selecting the stocks you will ultimately trade.