PRINT THIS ARTICLE
TRADING SYSTEMS
---
PCS On Verge Of Powerful Breakout
05/11/11 10:24:52 AM
---
by Donald W. Pendergast, Jr.
---
Shares of MetroPCS Communications have just broken above a key resistance area, even as a new mechanical buy signal has been issued.
Security:
PCS
Position:
N/A
Up by more than 250% since early 2010, shares of MetroPCS Communications, Inc. (PCS), have simply refused to roll over and die; every time the stock sells off a little, there seem to be no dearth of willing and ready buyers to scoop up shares every time they pull back. Incredibly, the stock keeps generating buy signals, and the latest one looks to be yet another potential winner. Let's take a peek at it now (Figure 1).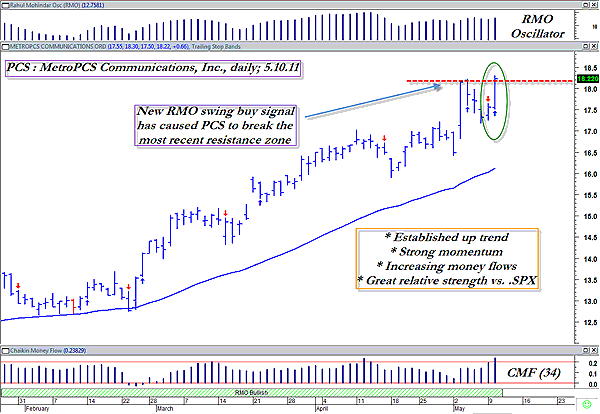 FIGURE 1: PCS, DAILY. It doesn't usually pay to fade a valid breakout move in a powerful uptrend. Trading with the trend tends to lead to better outcomes over time.
Graphic provided by: MetaStock.
Graphic provided by: Rahul Mohindar oscillator (RMO) from MetaStock 11.
Honestly, this market is becoming like one of those knockdown dolls that just keep getting back up after taking a hit -- give em a whack and they just come back up. Eventually, the broad market will sell off hard again, maybe even going into a bear market, but for now, it looks like the good times on Wall Street may continue for a while.

The daily chart for PCS looks very impressive -- a mammoth uptrend is in progress (one that is now more than 15 months old), an intermediate-term money flow is extremely strong, momentum is positive and rising, and the stock has exceptionally strong comparative strength versus the .SPX. In addition, and most important, the stock has just fired a new Rahul Mohindar oscillator (RMO) swing buy signal that has propelled it beyond the latest significant overhead resistance area. Prices are still way above the rising 50-period exponential moving average (EMA), too -- yet another indication of a powerful trend in motion.



While some traders might be a bit leery of going long here after such a major uptrend, it remains that it's almost always safer to trade in the direction of the existing (confirmed) trend than to attempt to pick a top or fade such a move. It still might be prudent to risk no more than 1% of your account size if you're taking this long setup, using a three-bar trailing stop of the daily lows as your initial stop and/or trailing stop point. Normally, the way to enter is to buy on a stop a couple of ticks above Tuesday's high ($18.30) and then use the initial stop/trail and/or price target of your choice.


Overall, this looks to be a very nice long trade setup, one that is sure to attract a lot of attention among serious traders and investors.


---
Donald W. Pendergast, Jr.
Donald W. Pendergast is a financial markets consultant who offers specialized services to stock brokers and high net worth individuals who seek a better bottom line for their portfolios.
Title:
Writer, market consultant
Company:
Linear Trading Systems LLC
Jacksonville, FL 32217
Phone # for sales:
904-239-9564
E-mail address:
lineartradingsys@gmail.com

Traders' Resource Links

Linear Trading Systems LLC has not added any product or service information to TRADERS' RESOURCE.
---
Click here for more information about our publications!
PRINT THIS ARTICLE