I am not an exchange traded fund (ETF) fan because I feel that too many traders play them. The charts below show that I am wrong in my thinking. One would have scored far better playing the ETF than the stock.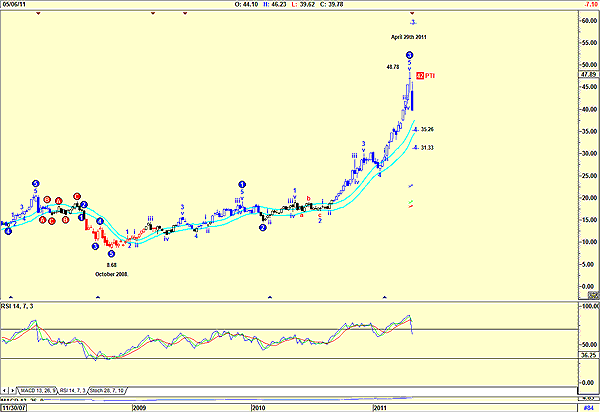 FIGURE 1: i-SHARE SILVER TRUST
Graphic provided by: AdvancedGET.
Figure 1 is a weekly chart of the iShare Silver Trust ETF. It shows how the ETF moved from a low of $8.68 in October 2008 to a high of $48.78 by April 2011. The Elliott wave count is suggesting that the ETF is now tracing a fourth wave of lesser degree, and it should bottom around the $31.33 to $35.26 level. This is confirmed by the relative strength index (RSI), which is suggesting a sell signal. The PTI (probability index) is 42, which means that the probability of this occurring is 42%. So? Do you buy the iShare Silver Trust when it falls to the $31 or $35 level? Let's face it, the profit from October 2008, had one bought at $8.68 and sold at $48.78 in April 2011, would have been 462%. The chart is suggesting a wave 5 to follow with a target of $70 (not shown), a 100% move should it fall to $35.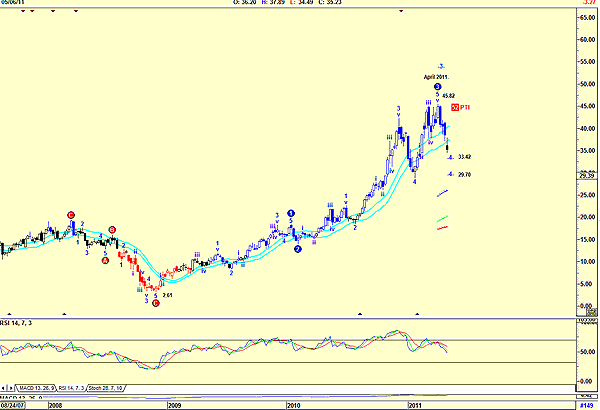 FIGURE 2: SILVER WHEATON
Graphic provided by: AdvancedGET.
Figure 2, a weekly chart of Silver Wheaton, shows how the price moved from $2.61 in October 2008 to a high of $45.82 by April 2011, a rise of 1,649%, a great deal better than the percentage increase in the iShare Silver Index. The RSI is also bearish, and the PTI suggests a 52% probability that the price will test somewhere between 29.70 and 33.42 before rising to a wave 5 target of $85 (not shown), a 154% return should it fall to and reverse at $33.42.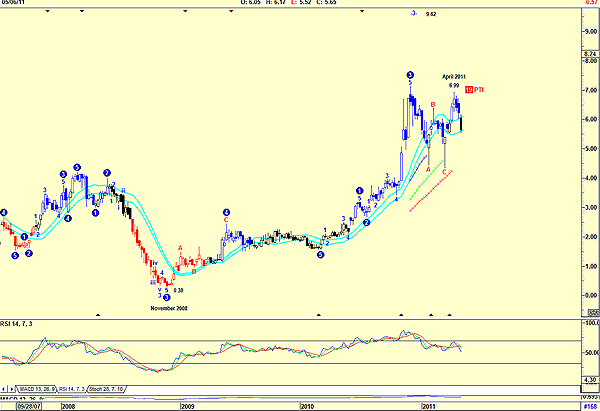 FIGURE 3: MINCO SILVER CORP.
Graphic provided by: AdvancedGET.
Figure 3 is of Minco Silver Corp., which moved from a price of 30 cents in November 2008 to a high of $6.99 by April 2011, a percentage profit of 2,230%. The chart does show a double-top formation with a 19% probability of a fall. The RSI is also bearish, but the wave count on the chart does not show a wave 4 bottom. This is because the PTI is below 32, suggesting that wave 3 is not complete. So can we expect silver to start rising again?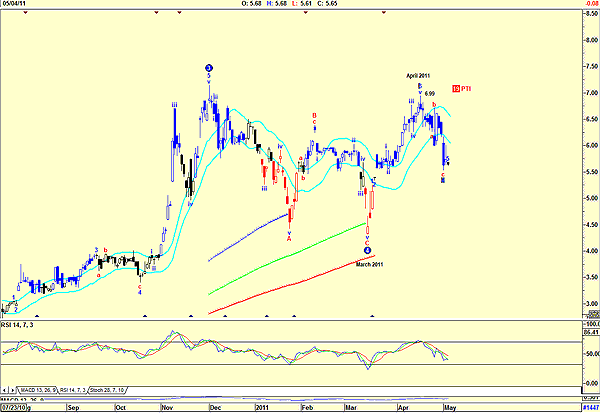 FIGURE 4: MINCO SILVER CORP., DAILY
Graphic provided by: AdvancedGET.
A look at the daily chart (Figure 4) shows the double top that has formed at the $7.00 level. The chart also suggests that wave 4 bottomed in March 2011 and that the share is now tracing a wave 2 of wave 5. Once the RSI suggests a buy signal one should buy the share, and definitely choose Minco because the percentage increase could be remarkable.

Charts are suggesting that rise of silver is not over, that there could be a final fifth wave rise to new heights. It looks as if shouting about silver from the rooftops will once again be a given.