PRINT THIS ARTICLE
MOMENTUM
---
More Good Times To Come For YHOO?
05/03/11 12:41:47 PM
---
by Donald W. Pendergast, Jr.
---
The broad market continues to surprise to the upside -- and there are a number of attractive stocks on the move. Here's a look at Yahoo's latest surge higher.
Security:
YHOO
Position:
Buy
If you're a regular user of MetaStock, then you probably are aware of the dozens of preloaded explorations that come standard in the program. One of the more useful ones for momentum traders is called the Deel momentum filter, and it scans for stocks that are exhibiting "colossal momentum and extended trend." Running this exploration in MetaStock 11 on the Standard & Poor's 500 component stocks is how I was able to locate this powerful trend thrust in Yahoo (YHOO). It appears to be tailor-made for those traders who want to better time their entries into strongly trending stocks -- preferably on an intraday pullback to support -- and for those more conservative types who want to stick with the covered-call route with their investing/trading capital.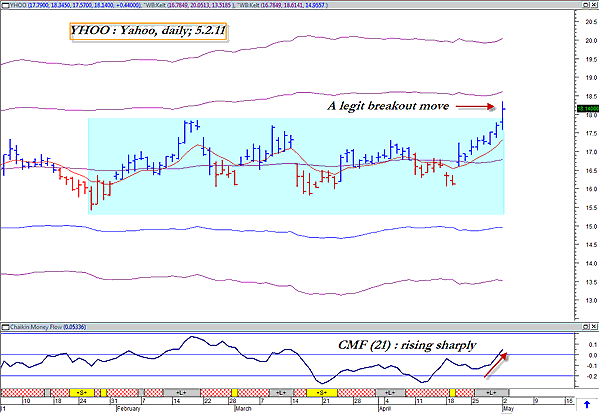 FIGURE 1: YHOO, DAILY. Strong trend characteristics, rising short-term money flow, and a legitimate pattern breakout all seem to suggest that the line of least resistance for Yahoo is toward higher prices.
Graphic provided by: MetaStock.
Graphic provided by: MetaStock 11 CS Scientific expert advisor.
Yahoo is really surging now, and from the looks of its daily graph, the stock looks like an outstanding covered-call setup:

* The stock has finally broken out of a large trading range pattern
* Short-term money flow is above average (CMF)(21)
* Monday's wide range and heavy volume breakout is a very convincing clue that "big money" likes this stock and believes it has some more upside potential.

Short-term momentum traders might simply want to wait for a decent intraday pullback on the 15- to 30- minute time frames before attempting to jump on board, using their own proven methods to get them into and out of the trade.

Fans of the covered call who believe the stock can rise for the next few weeks (it has above-average comparative relative strength versus the .SPX) might do well to check out the May $18 YHOO covered call, which is offering the potential of an annualized return in excess of 50% in the next 18 days if the stock is called away. As far as managing the position, why not just use the prior weekly low as your trailing/initial stop and use that as your exit point, win or lose? Bid-ask spreads are excellent in these at-the-money YHOO calls, and volume is very good.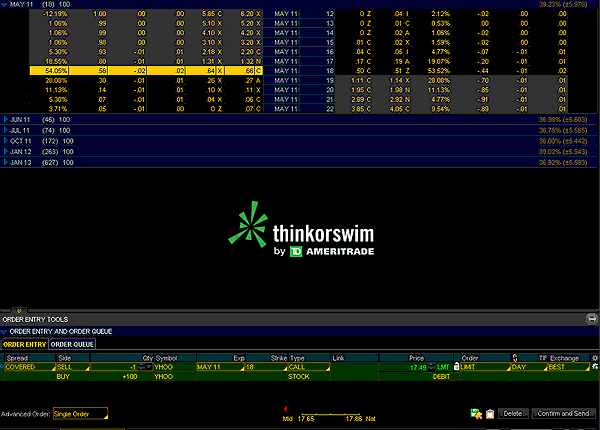 FIGURE 2: YHOO, COVERED CALL. Better than a 50% annualized possible return in a two-and-a-half week covered-call play? Yes, it is possible, but you must use prudent risk control and trade sizing to avoid potential problems if shares of YHOO begin to fall rapidly.
Graphic provided by: Thinkorswim.
When you find strongly trending stocks in the midst of a generally rising market, you've already got momentum working in your favor -- on two fronts: Always buy the strongest stocks from the strongest groups when the broad market is in a confirmed uptrend and sell the weakest stocks from the weakest groups when the broad market is in a confirmed downtrend. It isn't magic, but it will definitely help put more of the odds for trading and investing success in your favor.


---
Donald W. Pendergast, Jr.
Donald W. Pendergast is a financial markets consultant who offers specialized services to stock brokers and high net worth individuals who seek a better bottom line for their portfolios.
Title:
Writer, market consultant
Company:
Linear Trading Systems LLC
Jacksonville, FL 32217
Phone # for sales:
904-239-9564
E-mail address:
lineartradingsys@gmail.com

Traders' Resource Links

Linear Trading Systems LLC has not added any product or service information to TRADERS' RESOURCE.
---
Click here for more information about our publications!
PRINT THIS ARTICLE