PRINT THIS ARTICLE
TRADING SYSTEMS
---
JDSU, A Raff Buy Signal
05/02/11 08:58:21 AM
---
by Donald W. Pendergast, Jr.
---
Stocks are rising across the board as the early spring rally continues. Here's a look at a fresh buy signal in shares of JDS Uniphase.
Security:
JDSU
Position:
Buy
MetaStock 11 comes loaded with dozens of expert advisor trading templates and systems, and one of the most useful ones has got to be the Raff MarketSpace stock system. The formula used to generate the trading signals is protected, but whatever is used to generate buys and sells seems to wait for an emerging trend to materialize before a red sell or green buy arrow hits the trading screen. I've noticed that using a 21-period exponential moving average (EMA) as an initial/trailing stop for one of these hypothetical trades will sometimes allow a very nice trending move to play out, garnering large amounts of profit. To catch shorter swing moves, a 12-period EMA also seems to do a pretty good job, too. Play around with the averages and also try using a variety of volatility trailing stops to see if you can fine-tune your own semi-mechanical trading method when using this particular MetaStock expert advisor. See Figure 1.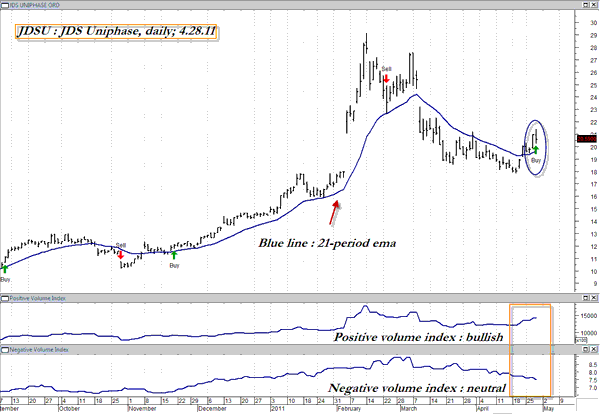 FIGURE 1: JDSU, DAILY. The Raff MarketSpace Stock system, one that comes standard as an expert advisor in MetaStock 11, is now going long shares of JDS Uniphase on the daily time frame.
Graphic provided by: MetaStock.
Graphic provided by: Gil Raff expert advisor from MetaStock 11.
Currently, shares of JDSU are still enmeshed in a bullish swing move that coincides with the sudden rebound in the broad US markets. Money flow, as evidenced by the positive volume index (PVI), is strong, with prices tending to rise on days with heavy volume. Negative money flow (NVI), however, is in a stale, neutral to slightly bearish mode, indicating that prices tend to fall on days of below-average volume. Given the strong upward pull of the broad market, however, that may soon give way to a more bullish posture, depending on whether JDSU decides to follow through on this latest Raff buy signal. The previous three buy signals would indeed have earned profits for savvy and/or patient traders, so this latest signal should also be given every benefit of the doubt.


If you're not convinced that this current market rally has real legs, then perhaps you could ditch the EMA-based trailing stops previously suggested and just go with a simple three-bar trailing stop of the daily lows to manage a new long entry. Buying on a stop above $21.38 might be the simplest and easiest way to get into this position; buying on strength may seem to be counterintuitive, but unless you have a proven system that can successfully and consistently buy on retracements, following a strong trend might be the wisest course of action over the long run.


---
Donald W. Pendergast, Jr.
Donald W. Pendergast is a financial markets consultant who offers specialized services to stock brokers and high net worth individuals who seek a better bottom line for their portfolios.
Title:
Writer, market consultant
Company:
Linear Trading Systems LLC
Jacksonville, FL 32217
Phone # for sales:
904-239-9564
E-mail address:
lineartradingsys@gmail.com

Traders' Resource Links

Linear Trading Systems LLC has not added any product or service information to TRADERS' RESOURCE.
---
Click here for more information about our publications!
Comments
PRINT THIS ARTICLE