PRINT THIS ARTICLE
MOMENTUM
---
Baker Hughes High Momentum
04/28/11 02:42:18 PM
---
by Donald W. Pendergast, Jr.
---
With such outstanding upward momentum going for it, Baker Hughes shares look like an attractive covered-call play.
Security:
BHI
Position:
Buy
The crude oil market is red-hot once again, and one of the easiest ways to play the energy sector is by focusing on the stocks of those companies that support offshore drilling operations -- companies like Baker Hughes (BHI). Here's a look at a short-term covered-call play that offers the potential for a very attractive rate of investment returns.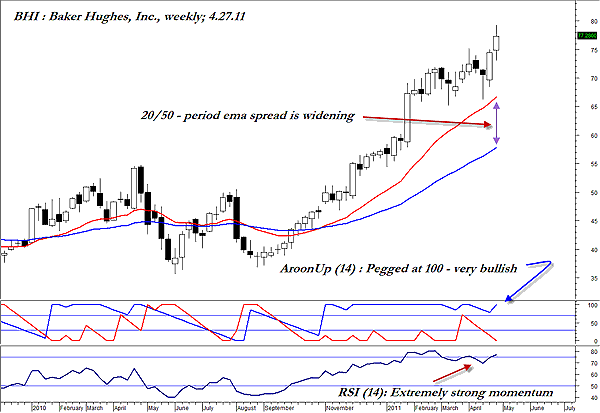 FIGURE 1: BHI, WEEKLY. Who says that option or stock trading has to be complicated? By focusing on stocks with strong weekly momentum attributes, you can begin to assemble a pool of suitable covered-call candidates to choose from.
Graphic provided by: MetaStock.
Figure 1 is the weekly chart of BHI, and it's suggesting that the stock may still have some more room to run on the upside in the weeks ahead. This particular MetaStock 11 template is one I constructed to help identify strongly trending stocks, and it does a good job when it comes time to put on a buy-write (that is, a covered-call) position in a stock that is anticipated to keep rising due to high momentum and comparative relative strength characteristics.

At the very bottom of the chart is the 14-period weekly relative strength index (RSI), a key indicator that is now reading 77.24. RSI readings that stay consistently above the 60-65 range are typically confirming the existence of a persistent trend, so at least we have some basic confirmation that we're looking at a decent covered-call candidate. Just above the RSI we see that the Aroon Up(14) trend intensity indicator is reading 100, which is the maximum allowed in a bullish move, so again, we have confirmation of a strong trend from a dissimilar indicator.

Going further, we also find that the spread between the red 20-period ema and the blue 50-period exponential moving average (EMA) is widening, also another sign of continued strong upward momentum.

Now that we've identified a strong large-cap stock from a strong sector and/or industry group, all we need to do is shop for an appropriate covered call that can help us put this tremendous trend momentum to work for our trading accounts.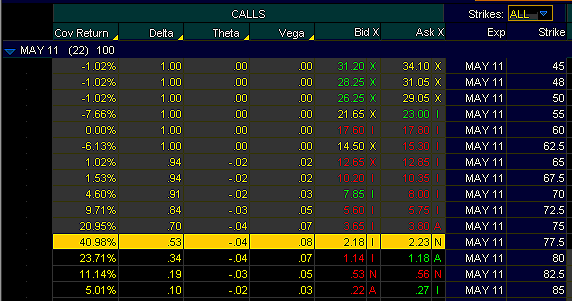 FIGURE 2: CALLS. Any financial instrument capable of delivering upward of 40% annualized in a three-week period might be worth some further investigation. In this case, the BHI May $77.50 covered-call setup appears to be a reasonably sane way to attempt to garner such profits.
Graphic provided by: Thinkorswim.
The May $77.50 BHI covered call has only 22 days until expiration and it also offers the potential for a 40% annualized rate of return in that time period; perhaps this would be a good way to deploy a portion of our trading funds for the next three weeks or so. See Figure 2.


Managing this trade should be kept as simple and stress-free as possible, so why not just use the current weekly low as the trailing/initial stop-loss point on the trade, or maybe even place it five or 10 cents below it for some extra leeway? Even if the trade is immediately stopped out, the loss at this point would be modest. Then next week, you simply adjust the stop (higher only, never lowering it) as conditions change.

Nobody likes paying $4 or $5 for a gallon of gas or diesel, but you can still learn to profit from the high valuations in the crude oil market by playing the various opportunities in the stocks from the energy sector, perhaps recovering a good portion of the extra cash you now need to part with at the pump. This looks like one of the better, low-risk opportunities available right now.


---
Donald W. Pendergast, Jr.
Donald W. Pendergast is a financial markets consultant who offers specialized services to stock brokers and high net worth individuals who seek a better bottom line for their portfolios.
Title:
Writer, market consultant
Company:
Linear Trading Systems LLC
Jacksonville, FL 32217
Phone # for sales:
904-239-9564
E-mail address:
lineartradingsys@gmail.com

Traders' Resource Links

Linear Trading Systems LLC has not added any product or service information to TRADERS' RESOURCE.
---
Click here for more information about our publications!
PRINT THIS ARTICLE