PRINT THIS ARTICLE
TRADING SYSTEMS
---
ERTS Ready To Jump Higher?
04/22/11 08:42:26 AM
---
by Donald W. Pendergast, Jr.
---
Electronic Arts shares have taken a bit of a breather lately, but now look ready to make another attempt to run higher.
Security:
ERTS
Position:
Buy
Ever since shares of Electronic Arts (ERTS) gapped higher on massive range and volume in early February, the stock has maintained those initial gains and even tacked on some more. The stock has been consolidating for the past few weeks and now, with the advent of a fresh RMO (Rahul Mohindar) swing buy signal, looks primed to launch into a continuation move -- a classic and repetitive market pattern. Here's a closer look (Figure 1).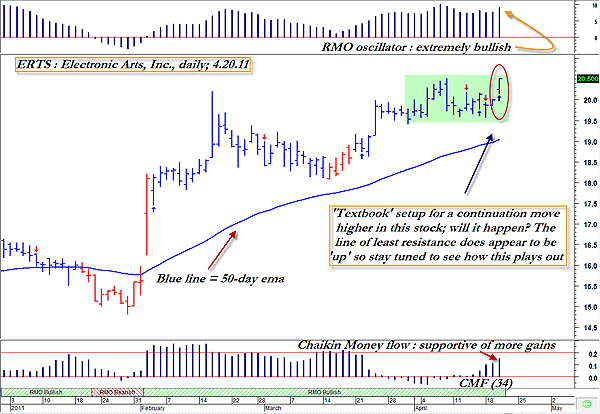 FIGURE 1: ERTS, DAILY. A nice-looking, potentially low-risk long trade entry setup is very appealing, but don't go overboard if attempting to play this one -- always size your positions properly, according to your account size, risk tolerance, and account equity you wish to limit your maximum risk to.
Graphic provided by: MetaStock.
Graphic provided by: Rahul Mohindar RMO indicators from MetaStock 11.
Stocks that make massive gap moves higher tend to have a sound fundamental reason for doing so, and in the case of ERTS, those fundamentals are apparently proving out, what with the stock up a full 20% after that incredible breakout 12 weeks ago.

Here are the main features of this very bullish long stock setup:

* A new RMO swing buy signal, one occurring after a significant test of support
* ERTS has exceptionally good relative strength versus the .SPX over the last calendar quarter
* Very strong medium-term money flow (CMF)(34)
* Incredibly strong momentum, per the RMO oscillator
* ERTS remains well above its rising 50-day exponential moving average (EMA)
* The green shaded consolidation pattern is the real test here -- a strong break above it on a daily close could be the trigger that draws even more buying power into this stock.

Typical of most trade setups of this nature (buying into strength), the best trade entry is probably to just place a buy-stop a couple of ticks above Wednesday's trigger bar high of $20.52. If filled, simply start running a three-bar trailing stop of the daily lows and let it rip until that stop finally takes you out of the trade, either as a winner or loser. With the broad market making very bullish noises right now, waiting for an intraday pullback in ERTS doesn't seem to make much sense. No, this looks more like a "last train out" kind of market move, one likely to pull strongly higher for the next month or so until the late spring selling mentality begins to ameliorate the recent enthusiasm.



If you're taking this trade, be sure to use proper trade sizing, risking no more than 1% to 2% of your cash account value on it. Better to be safe than sorry, because in the real world, even the best-looking setups can go awry.


---
Donald W. Pendergast, Jr.
Donald W. Pendergast is a financial markets consultant who offers specialized services to stock brokers and high net worth individuals who seek a better bottom line for their portfolios.
Title:
Writer, market consultant
Company:
Linear Trading Systems LLC
Jacksonville, FL 32217
Phone # for sales:
904-239-9564
E-mail address:
lineartradingsys@gmail.com

Traders' Resource Links

Linear Trading Systems LLC has not added any product or service information to TRADERS' RESOURCE.
---
Click here for more information about our publications!
PRINT THIS ARTICLE