PRINT THIS ARTICLE
TRADING SYSTEMS
---
Goodyear About To Rise Again?
04/20/11 02:10:02 PM
---
by Donald W. Pendergast, Jr.
---
Up by more than 50% since December 2010, shares of Goodyear Tire and Rubber may be ready for yet another spurt higher.
Security:
GT
Position:
Buy
Of all the stocks in the S&P 500 component stock list generating RMO (Rahul Mohindar) buy signals on April 19, Goodyear Tire and Rubber (GT) has the highest comparative relative strength ranking of them all. The broad markets may actually be poised to move higher for the next few weeks, and the current trade setup in GT looks promising. Here's a closer look now (Figure 1).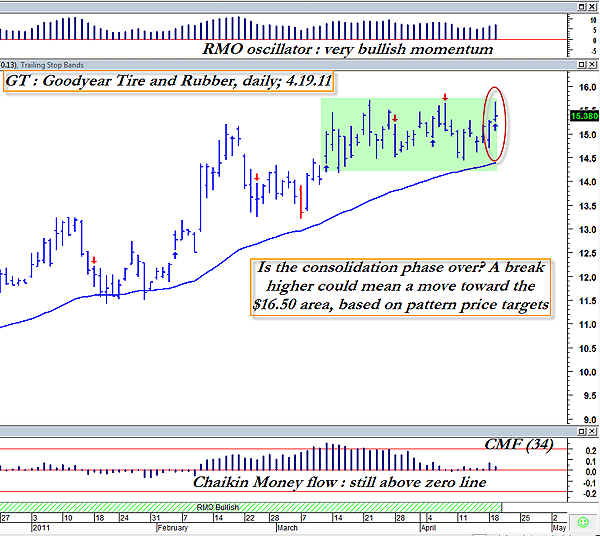 FIGURE 1: GT, DAILY. Decent money flow, strong momentum, a new swing buy signal, an existing uptrend, and a potential for a rectangle breakout all appear to suggest that the line of least resistance for GT shares is toward higher valuations.
Graphic provided by: MetaStock.
Graphic provided by: Rahul Mohindar RMO indicators from MetaStock 11.
Not much of a surprise here -- all of the ingredients necessary to support a possible swing move higher appear to be in place:

1. A new RMO swing buy signal
2. Prices above the rising 50-period exponential moving average (EMA)
3. Medium-term money flow (CMF)(34) remains above its zero line
4. Momentum, as depicted by the RMO oscillator at the top of the chart, is also on the bullish side of the ledger -- and getting stronger
5. The stock may also be on the verge of breaking higher from the recent six-week consolidation phase

Swing traders might be best to place a buy-stop just above April 19's high at $15.69 and then run a three-bar trailing stop of the daily lows. This can serve as both your initial stop-loss and will also form the basis for a stress-free trailing stop that will automatically take you out of the trade, no matter what happens.



Those who believe that GT has a bit more to run on the upside but who are more risk-averse might consider purchasing a May $16 covered call instead, and at a price of $15.04 or better. The bid/ask spread in May $16 calls for GT is $0.10, so be prepared to work the bid to get a better deal if possible on the entire position.

If the stock is called away at May options expiration, you stand to earn an annualized rate of return on the trade of about 41% in a 30-day period. Not bad. To manage the covered call, why not just use the prior week's low as the stop-loss (minus a few pennies), also enabling a mechanical, stress-free way to exit the trade?



Market opportunities are everywhere, but you need to find the most promising ones by means of a systematic, rational, and consistently profitable method, one that has withstood the test of time. This article has demonstrated only one of the thousands of ways you can use MetaStock or any other competent charting/system development package to scan the market for the setups most likely to keep your account equity curve rising in the future.


---
Donald W. Pendergast, Jr.
Donald W. Pendergast is a financial markets consultant who offers specialized services to stock brokers and high net worth individuals who seek a better bottom line for their portfolios.
Title:
Writer, market consultant
Company:
Linear Trading Systems LLC
Jacksonville, FL 32217
Phone # for sales:
904-239-9564
E-mail address:
lineartradingsys@gmail.com

Traders' Resource Links

Linear Trading Systems LLC has not added any product or service information to TRADERS' RESOURCE.
---
Click here for more information about our publications!
PRINT THIS ARTICLE