PRINT THIS ARTICLE
TRADING SYSTEMS
---
Praxair New RMO Swing Buy Signal
04/19/11 09:24:57 AM
---
by Donald W. Pendergast, Jr.
---
Praxair fires off a new long trading signal, perhaps alerting traders of some more room to run on the upside.
Security:
PX
Position:
Buy
Despite the negative rumblings in the broad US markets over the past few sessions, the long-term uptrend in Praxair (PX) looks pretty darn resilient. Up by more than 100% since the March 2009 lows, the stock has managed to consistently clamber upward despite a few shocks along the way. Here's a brief look at the current RMO (Rahul Mohindar) swing buy signal in shares of PX.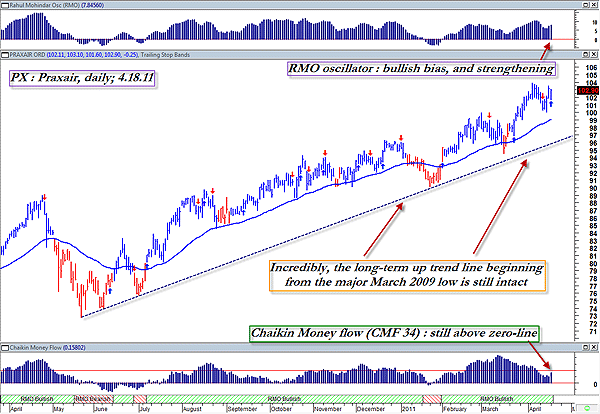 FIGURE 1: PRAXAIR, DAILY. Now, that's a real uptrend! Note how good the trading results on the long side has been when the buy signals occurred above both the 50-period exponential moving average (EMA) and the major uptrend line. There were still some losers, but such long signals appear to have done much better than the short signals during this extremely bullish phase.
Graphic provided by: MetaStock.
Graphic provided by: Rahul Mohindar RMO indicators from MetaStock 11.
The most impressive feature of Figure 1 is the as-yet unbroken uptrend line, one that clearly depicts the awesome staying power of Praxair shares. A trend like this needs to be respected, making the new appearance of an RMO swing system buy signal a very attractive proposition. Medium-term Chaikin money flow (CMF)(34) remains well above the zero line, as does the RMO oscillator (the momentum indicator at the very top of the chart); overall, the setup looks to be very viable, even for those with a discretionary trading mindset.

Note how trading the RMO buy and sell signals in the direction of the dominant trend generally seems to result in more profitable outcomes compared to taking every trade regardless of market trend bias. With such a strong, long-running trend in force, there are a couple of ways to consider playing the long side of PX, so let's examine them now.


The simplest way is to simply buy on a break above the new signal bar's high, say $103.12. Once filled, simply run a three-bar trailing stop of the daily lows as your combination initial/trail stop and then let it run until final closeout.

The other way is to buy half your position on the same buy-stop breakout move and then (hopefully) add the final half on a minor intraday pullback to support, thus lowering your net cost for the full position. You may not be able to get filled on a pullback if the market just keeps on rising after the initial buy, but that's the risk you take when you try to get a better deal. Initial/trailing stop placement for this version of the trade would be essentially the same, making it a snap to manage the position no matter which purchase pathway you may choose.


A final note: There were only a handful of long RMO swing buys from the S&P 500 component list on Monday, so it will be important to see the number of buy signals ratchet higher over the next couple of sessions if we are to see any kind of meaningful market rally here. Stay tuned.


---
Donald W. Pendergast, Jr.
Donald W. Pendergast is a financial markets consultant who offers specialized services to stock brokers and high net worth individuals who seek a better bottom line for their portfolios.
Title:
Writer, market consultant
Company:
Linear Trading Systems LLC
Jacksonville, FL 32217
Phone # for sales:
904-239-9564
E-mail address:
lineartradingsys@gmail.com

Traders' Resource Links

Linear Trading Systems LLC has not added any product or service information to TRADERS' RESOURCE.
---
Click here for more information about our publications!
Comments
PRINT THIS ARTICLE