PRINT THIS ARTICLE
TECHNICAL ANALYSIS
---
A Double Bottom in Utilities
03/07/02 01:42:32 PM
---
by David Penn
---
Time for another thirty points in the Dow Jones Utilities Average?
Security:
DJUA
Position:
N/A
The terrible thing about writing financial commentary--writing early and publishing late--is about as bad as its trading corollary, the foil of being right, but early. When I was slaying utilities in mid-January of 2002 ("Utilities: Used and Abused," Working-Money.com, 2/26/2002), it was for very good reason.


But there has been a run in March. And this run, while perhaps long overdue, is nonetheless dragging the Dow Jones Utilities Average up from its re-test of the December 2001 low. Up seven out of nine consecutive days, the Dow Jones Utilities Average has clawed its way up from 270.91 on February 22nd to a high of 297.99 by March 6th%--a solid 10% gain. If not overwhelming in percentage terms, the nine-day move does look to have completed a double bottom in the DJUA with a neckline around 300.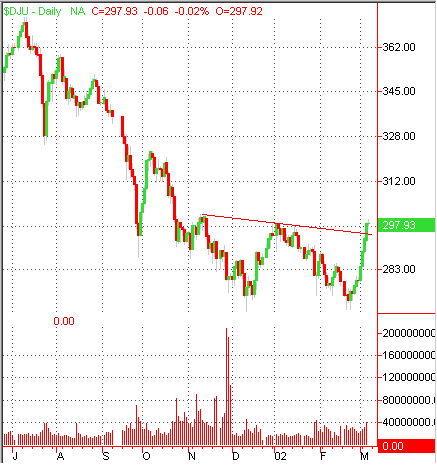 Been down so long ... A double bottom may help utilities climb out of the trough.
Graphic provided by: TradeStation.
Should the DJUA continue to show strength--or, better, find support between 296 and 300 with a relatively mild pullback--an upside target of 330 is likely based on the measurement from the mid-December 2001 low to the neckline and adding that value to the neckline value. There is some resistance around 320, though 330 sits in a clear space between the resistance at 320 and the rally peak from August 2001 at 350.


In my utilities article (written in early February), I suggested that there was the possibility of a head and shoulders bottom in the DJUA. That observation was based on the dip in late October/early November 2001 (left shoulder), and the larger decline that began in mid-November, troughed in mid-December and rallied into January 2002 (head). Unfortunately, the dip that began in January--the dip I suspected might resemble the October/November 2001 dip--turned into a real decline and a major test of the mid-December 2001 trough low. That killed the prospects for the head and shoulders bottom, but opened up the door to the double bottom the DJUA looks to be breaking out of in March.


Also in the same piece, I mentioned a number of Dow utilities stocks that might be worth watching in the months to come. These stocks followed the DJUA down in December 2001--though both First Energy (FE) and TXU Corporation (TXU) had relatively mild declines in that month compared to Con Ed (ED). These are among the utilities stocks that are now benefiting from the bullishness of the overall utilities average with solid runs toward new highs in March. Some of the smaller utilities companies mentioned have charts that have not improved (compared to the Dow names above) significantly over the past month. Yet two of those smaller utilities--UIL Holdings (UIL) and Wisconsin Energy (WEC) have made worthy advances since mid-February. UIL is up just over 7% since mid-February and WEC is up closer to 10% over the same period.


---
David Penn
Technical Writer for Technical Analysis of STOCKS & COMMODITIES magazine, Working-Money.com, and Traders.com Advantage.
---
Click here for more information about our publications!
Comments
Date:
 03/11/02
Rank:
 3
Comment:
PRINT THIS ARTICLE