PRINT THIS ARTICLE
SYMMETRICAL TRIANGLE
---
Caterpillar Inching Forward
03/05/02 07:51:23 AM
---
by Andrew Hetherington
---
For the past five years Caterpillar (CAT) has not been known as a market mover. It has bounced anywhere from $30.00 - $65.00 throughout this period. It is now time for a move upwards.
Security:
CAT
Position:
N/A
Figure 1 shows a weekly chart of Caterpillar Inc. A large 9-month symmetrical triangle formed in 2001 on very good diminishing volume and a strong breakout occured last week on almost 16 million shares. In addition to this promising development, CAT has dividend and equity growth from this point forward and makes a very attractive medium to long-term hold, particularly for those on fixed incomes.


My expectations are for a rise upwards to the all-time high of $66.44 that occurred in May of 1999, and to eventually surpass this resistance area. Keep in mind that Caterpillar is not a fast mover, but you should catch it at the right time if you purchase a long position in the low to mid $50.00 area.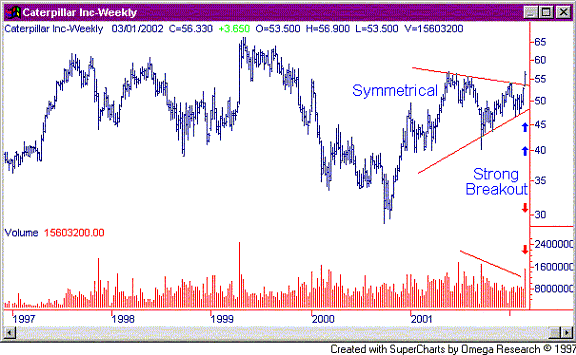 Figure 1: Weekly chart for CAT.
Graphic provided by: SuperCharts.
On the smaller picture, shown in Figure 2, a strong breakout with 5.2 million shares occured last Monday, February 25, 2002. CAT then formed a flag for a very brief throwback and resumed the uptrend on Friday with a one-day reversal. Although the volume was not huge for this reversal, it was still significant. The volume picked up after moving away from this consolidation area, illustrating underlying strength.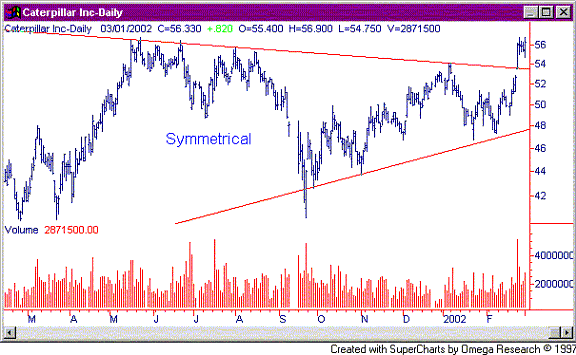 Figure 2: Daily chart for CAT.

Naturally, short-term speculators might not think this style of play is for them, but when the pickings become slim it is food for thought.


---
Andrew Hetherington
Classic Dow Theorist who trades as a pure technician, using pattern recognition.

---
Click here for more information about our publications!
Comments
Date:
 03/05/02
Rank:
 5
Comment:
Date:
 03/06/02
Rank:
 1
Comment:
 Useless
Date:
 03/15/02
Rank:
 4
Comment:
PRINT THIS ARTICLE