PRINT THIS ARTICLE
TECHNICAL ANALYSIS
---
Excessive Demand?
04/13/11 08:23:01 AM
---
by Austin Passamonte
---
Here's the near-term price outlook for WTI crude oil futures.
Security:
CL
Position:
N/A
The mid-February lows from 88+ to mid-April highs at 113+ represents a $25 increase in crude oil futures. That might be a little on the overextended side, especially considering the entire trading world thinks it should reach 120 or higher straight up the ladder without pause. See Figure 1.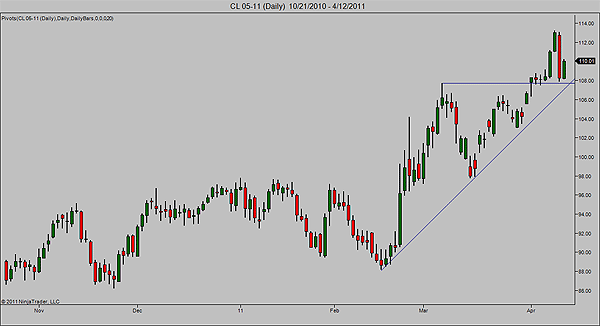 FIGURE 1: CL, DAILY
Graphic provided by: NinjaTrader.
Maybe it will and maybe it won't. Such predictions are impossible to, well, predict. What professional traders do is not predict -- they react, and react well. Monday's 521-cent pullback was exactly that, just a pullback to support. The entire trading world (or at least those who chart technical analysis) is watching those two trendlines, horizontal and vertical alike. Price above each remains bullish until proven otherwise, while below is bearish on a trend basis.


WTI crude oil (CL) might get a little noisy as price works itself out. A break below the 108 zone and lift back up that stalls into the current support would be a trend sell signal to take and hold for distance.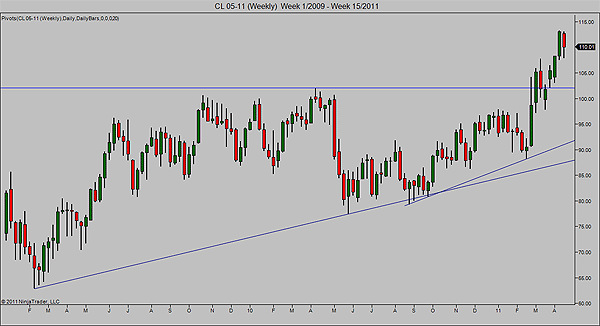 FIGURE 2: CL, WEEKLY
Graphic provided by: NinjaTrader.
The weekly chart (Figure 2) shows lower support(s) coming into play near 100 to 102+ on the congestion peaks from late 2009 to early 2010 and then February to March 2011 once again. Below that would be a return to the lower 90s zone if downside did not hold the 100 levels.


Crude oil futures, be that WTI or Brent, are obviously the fixation of traders and general public alike right now. Whereas prices of gold, silver, and other currency markets do not affect people directly, the price of oil and its distillates is an immediate and visible impact on normal life. Recent price spikes may be way ahead of the demand curve, and demand destruction from consumers balking at rising gasoline could be the dose of reality to shock price action back down whence it came.


---
Austin Passamonte
Austin is a private trader who trades emini stock index futures intraday. He currently trades various futures markets from home in addition to managing a trader's educational forum
Title:
Individual Trader
Company:
CoiledMarkets.com
Address:
PO Box 633
Naples, NY 14512
Website:
coiledmarkets.com/blog
E-mail address:
austinp44@yahoo.com

Traders' Resource Links

CoiledMarkets.com has not added any product or service information to TRADERS' RESOURCE.
---
Click here for more information about our publications!
PRINT THIS ARTICLE