PRINT THIS ARTICLE
TRADING SYSTEMS
---
TGT New RMO Swing Sell Signal
04/12/11 08:25:43 AM
---
by Donald W. Pendergast, Jr.
---
Shorting the market may not be everyone's cup of tea, but for those experienced with that discipline, this short setup in Target shares looks fairly attractive.
Security:
TGT
Position:
Sell
Target common shares (TGT) took quite a tumble beginning in January of this year, and the stock continues to be weak now that we're already in the second quarter of the year. No doubt the high price of gas, medical care, and food are all affecting the ability of consumers to load up on additional discretionary spending at this retail giant, thus keeping a lid on earnings growth and its share price. Here's a brief look at the short chart setup in shares of TGT.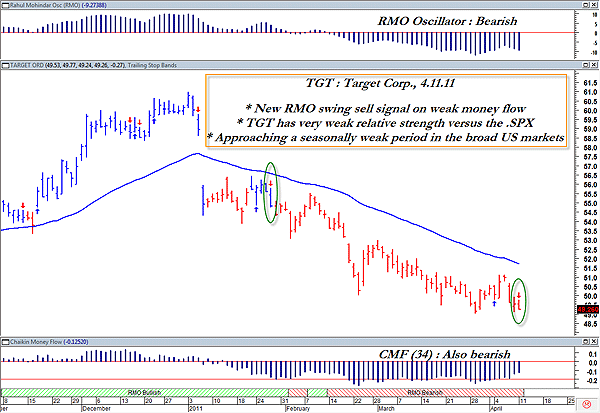 FIGURE 1: TGT. The beginning of a fresh downthrust? Or is it more like the end of an already substantial correction in shares of Target? The momentum and money flow indicators on the chart are still implying major weakness in the price of shares in this retail heavyweight.
Graphic provided by: MetaStock.
Graphic provided by: Rahul Mohindar RMO indicators from MetaStock 11.
Figure 1 is a very typical Rahul Mohindar oscillator (RMO) short sell trade setup:

* A new short signal (circled area)
* Weak Chaikin money flow (CMF)(100)
* Weak RMO oscillator action (see top of chart)
* The stock itself also has one of the poorest 13-week relative strength rankings versus the Standard & Poor's 500 (.SPX)

All in all, if you're medium- to short-term bearish on the retail sector, this could be a very attractive place to take a position to take a shot on the short side.


One way to place an initial stop-loss here is to simply set it a few ticks above the high of Monday's RMO short trigger bar and leave it there unless the stock starts falling again, perhaps using a two- to three-bar trailing stop of the daily highs to track the position, locking in any gains and helping limit the maximum loss on the trade.


The RMO trading system comes standard in MetaStock 11, so be sure to run the full variety of related RMO explorations on the stocks and futures contracts in your database. There are many ways to use the powerful exploration tool in MetaStock, so take some time and get familiar with them all. It can and should be time very well spent.


---
Donald W. Pendergast, Jr.
Donald W. Pendergast is a financial markets consultant who offers specialized services to stock brokers and high net worth individuals who seek a better bottom line for their portfolios.
Title:
Writer, market consultant
Company:
Linear Trading Systems LLC
Jacksonville, FL 32217
Phone # for sales:
904-239-9564
E-mail address:
lineartradingsys@gmail.com

Traders' Resource Links

Linear Trading Systems LLC has not added any product or service information to TRADERS' RESOURCE.
---
Click here for more information about our publications!
Comments
PRINT THIS ARTICLE