PRINT THIS ARTICLE
KELTNER CHANNELS
---
Iron Mountain Climbing To The Summit?
03/30/11 03:36:28 PM
---
by Donald W. Pendergast, Jr.
---
The technology sector remains strong, and one of the top-performing stocks from the business software and services industry group is Iron Mountain, Inc.
Security:
IRM
Position:
N/A
If you're a stock trader, one who prefers to focus on issues capable of making large trending moves, you really don't have to look too much farther than the technology sector to locate some of the most powerful stocks on the planet. One of the best performers of late is Iron Mountain (IRM), and its new attack on an important resistance level suggests that the stock has its heart set on even higher prices in the days ahead. Here's a closer look now (Figure 1).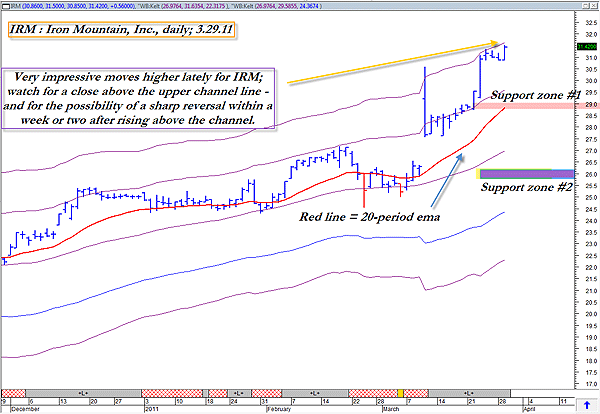 FIGURE 1: IRM, DAILY. Keltner channels will frequently identify high-probability support/resistance areas on the charts, and significant breaches of these S/R areas can lead to powerful continuation moves.
Graphic provided by: MetaStock.
Graphic provided by: MetaStock v.11 CS Scientific expert advisor.
So shares of IRM are up nearly 50% in the past six months. So what? Aren't there plenty of other stocks that are up even more than that in the same time period? Yes, certainly there are, but as in all things trading, the technical configuration of the stock is the key. In this case, IRM is now poised to pierce and/or exceed its upper Keltner channel, something it has not been able to accomplish since November 2007. In case you're not familiar with Keltner channels (also known as Keltner bands), they frequently identify key areas of support and resistance (S/R), and when these vital S/R zones are clearly breached, it may indicate the potential for significant follow-though.

The outer channels are set 7.5 standard deviations (SDs) away from a 45-period exponential moving average (EMA), and when you see a verified close beyond the bands, it usually means one of three things:

1. Prices have so much momentum that they are bursting out beyond all statistical volatility measures, thus indicating a strong trend in progress.
2. Prices are very strong but may soon pause, if not actually reverse direction, as in the case of a correction against the major trend.
3. Prices have sufficient momentum to simply ascend the ever-rising (falling) channel line without really exceeding it by any significant measure.

No one knows how much higher IRM will actually go before taking a breather (even the strongest trends need time to relax before moving even higher (lower)), and at this juncture, the first thought might be to go the good ol' covered-call route, but with the bid-ask spreads a bit too wide to make a covered call trade very practical, you may just want to wait for a pullback to the first area of support identified on the chart (pinkish horizontal shaded area).

Unless we see a full-blown market reversal, IRM should find more than a few willing buyers near that key price support who could allow for a meaningful bounce -- one especially beneficial to intraday traders who want to take a safer shot on the long side -- rather than trying to time an entry now at such nosebleed levels. That said, if you look at the bottom of the chart, you'll also note that the CS Scientific Hybrid trade screen -- a MetaStock 11 expert advisor (gray ribbon) -- is also confirming the extraordinary bullish posture of this stock. For all we know, this stock might still have some room to run, so just let the charts do the talking before considering how to time a pullback reentry play.


Keltner channels are terrific technical tools for discretionary traders, and even system traders can program them into their mechanical strategies as they seek to develop a winning edge in the financial markets. Once you spend some time working with them, you'll quickly realize just how valuable a tool they can actually be.


---
Donald W. Pendergast, Jr.
Donald W. Pendergast is a financial markets consultant who offers specialized services to stock brokers and high net worth individuals who seek a better bottom line for their portfolios.
Title:
Writer, market consultant
Company:
Linear Trading Systems LLC
Jacksonville, FL 32217
Phone # for sales:
904-239-9564
E-mail address:
lineartradingsys@gmail.com

Traders' Resource Links

Linear Trading Systems LLC has not added any product or service information to TRADERS' RESOURCE.
---
Click here for more information about our publications!
Comments
PRINT THIS ARTICLE