Microsoft Corp. (MSFT) has robust support at $24.50 formed by previous lows. In December 2010, MSFT initiated a fresh bullish rally, breaching the 50-day and 200-day moving averages (MA). After the MA breakout, the stock witnessed a volatile advance rally. The rally was filled with doji candlesticks, red (bearish) candles, and small bullish candles (white) with upper shadows in Figure 1. This shows lack of bullish strength and uncertainty in the upward price action, indicating the possibility of a reversal rally. A negative divergence of the full stochastic (14,3,3) further indicated a bearish reversal rally. In addition, the average directional index (ADX) (14) in Figure 1 highlighted an overheated uptrend. MSFT plunged from $29.50, and hit the previous low support at $24.50.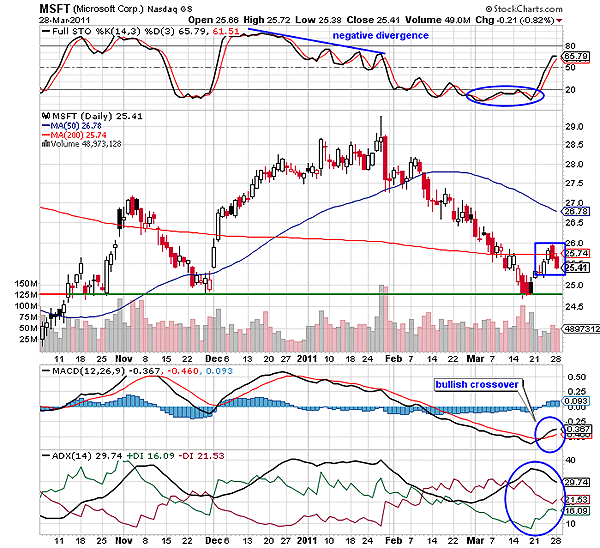 FIGURE 1: MSFT, DAILY. The mixed signals of the three indicators and the 200-day MA resistance would hammer the bullish rally.
Graphic provided by: StockCharts.com.
Once again, MSFT was under bearish pressure. During an intermediate corrective rally, the stochastic oscillator, ADX (14) and moving average convergence/divergence (MACD) (12,26,9) turned extremely bearish, suggesting a pullback rally. MSFT began to surge on these notes, failing to break the 200-day MA resistance. Currently, the stock is retracing toward its previous low. Although the ADX (14) has descended, the trend is bearish as the selling pressure is ruling the trend indicator at 29 levels. The MACD (12,26,9) is undergoing a bullish crossover in negative territory and the overbought stochastic is jittery at 65 levels. Therefore, MSFT is likely to remain highly volatile within a narrow range of $24.50 and $25.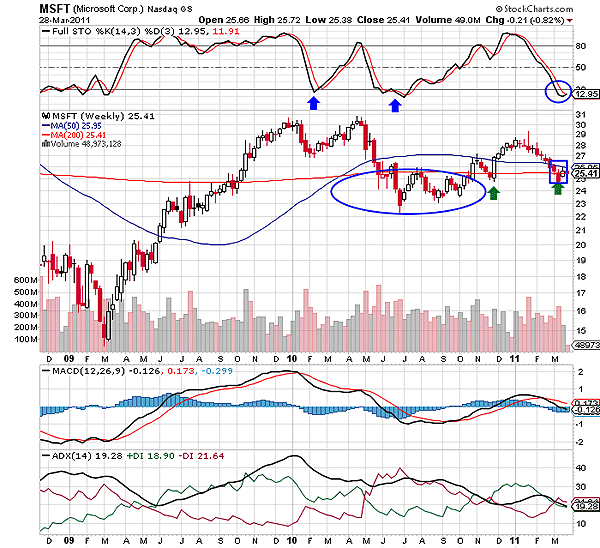 FIGURE 2: MSFT, WEEKLY
Graphic provided by: StockCharts.com.
The 200-day MA is considered to be a major support-resistance for all stocks and indexes. You can see from Figure 2 that this long-term MA was a tough resistance for MSFT, which was converted to support in late 2009 and early 2010. However, the stock could not sustain above the newly formed support, and consolidated below the 200-day MA resistance. The breakout journey in December 2010 reversed, forming a rounded-top (Figure 2). The stochastic oscillator is highly oversold, signifying a bullish rally in the future. Earlier, the oscillator had surged from the oversold region; therefore, we can anticipate that the indicator would recover in the current situation as well. The MACD (12,26,9) and average directional index (ADX)(14) are indicating volatile consolidation in the narrow range. The stock is crunched between the 50-day and 200-day MA support-resistance.


MSFT is likely to struggle for a bullish breakout. To begin a fresh upward rally, a developing uptrend with bullish momentum is essential for MSFT.