PRINT THIS ARTICLE
TECHNICAL ANALYSIS
---
Kiss Goodbye?
03/28/11 08:56:24 AM
---
by Austin Passamonte
---
Here's a midterm price direction for the Standard & Poor's 500 index futures.
Security:
ES
Position:
N/A
"Prior support now resistance" is an old cliche and a fundamental fact. Levels and measures of price support and resistance revert to opposite forces once broken. Markets have memory, and that memory comes in the form of prior trades stopped long or short.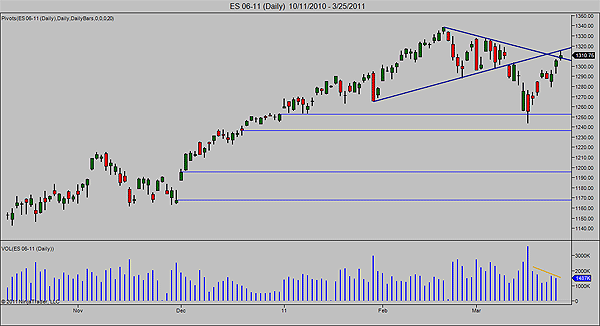 FIGURE 1: S&P 500 FUTURES (ES)
Graphic provided by: NinjaTrader Charts.
S&P 500 futures (ES) bottomed on late December gap fills before riding the same upward launch all other stock indexes ride. Once again, lower daily volume on higher daily price levels is the mode of market operation right now. See Figure 1.


That ascending trendline from late January lows to late February and early March higher lows formed the bottom of a crisp wedge pattern formation. Textbook technical analysis is at work, price bouncing from one measured magnet to another in search of lasting direction.


Friday's price stalled at resistance into the apex of that trendline's wedge. Daily volume held below two million contracts since the recent swing low. Three consecutive open gaps were left behind on that levitation where overnight pushes upward overcame intraday selloffs downward.


Financial markets do move in mysterious ways, except for times when it's clear they are being moved during low-volume periods when price is easiest to influence. That can work on a short-term basis, and it can persist for a while. But not forever. If price rejects near current resistance zones and turns lower into increasing volume, it's time to set our sights on 1200s gap fills and below.


---
Austin Passamonte
Austin is a private trader who trades emini stock index futures intraday. He currently trades various futures markets from home in addition to managing a trader's educational forum
Title:
Individual Trader
Company:
CoiledMarkets.com
Address:
PO Box 633
Naples, NY 14512
Website:
coiledmarkets.com/blog
E-mail address:
austinp44@yahoo.com

Traders' Resource Links

CoiledMarkets.com has not added any product or service information to TRADERS' RESOURCE.
---
Click here for more information about our publications!
Comments
PRINT THIS ARTICLE