Running the RMO swing buys MetaStock exploration on the Standard & Poor's 500 component stocks, we find that six of the top ten10stocks located by this screen are from the energy sector. Several other industry groups are also represented (Figure 1).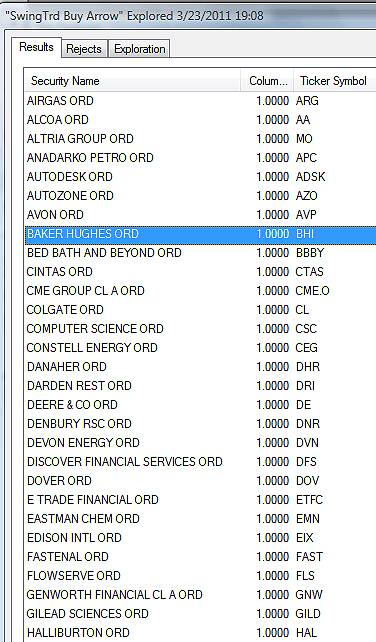 FIGURE 1: RMO. A partial list of all RMO swing buy signals in the S&P 500 index for March 23, 2011.
Graphic provided by: MetaStock.
Graphic provided by: MetaStock Explorer.
Since we want to attempt to find the stocks with the strongest quarterly relative strength ranking (RS) versus the .SPX, we then take the same list of stocks generated by the previous exploration and run them against the .SPX to find out which ones are far outperforming this key large-cap stock index. Of all the stocks in the RS ranking list, Baker Hughes (BHI) has the most attractive chart pattern, especially on its weekly chart, where an outstanding covered call setup appears to be shaping up. See Figure 2.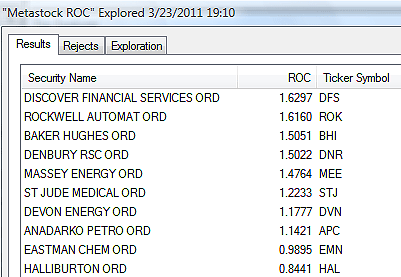 FIGURE 2: ROC VS. SPX. The same list of RMO swing buys ranked according to their 13-week rate of change (ROC) calculation versus the .SPX.
Graphic provided by: MetaStock.
Graphic provided by: MetaStock Explorer.
One of the most striking aspects of BHI's weekly chart (Figure 3) is the smoothness of the recent uptrend, one that now appears to be on the verge of breaking higher from a minor consolidation pattern. The CS Scientific Hybrid trade screen (colored ribbons at bottom of chart) is also confirming the powerful uptrend now in force. Long-term money flow (not shown) is also positive, too. Since the nine-week exponential moving average (EMA) can frequently act as a good initial/trailing-stop point for a covered-call trade (one with powerful upside momentum already working in its favor, that is), the fact that the EMA is reasonably close to the current value of the stock (a technical by-product of the recent sideways price action) means that you can place an initial stop that is only about $3.40 below the current price of BHI. This is a terrific-looking covered-call setup!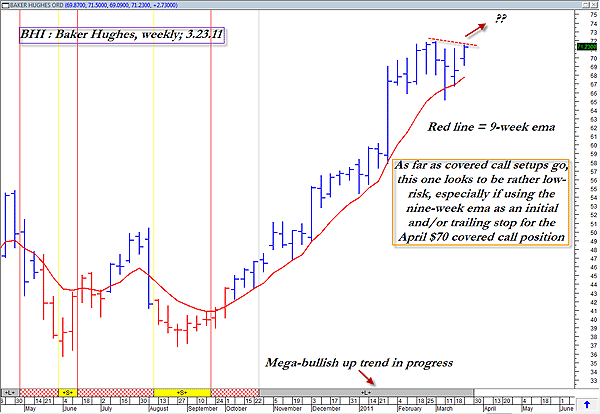 FIGURE 3: BHI, WEEKLY. A powerful uptrend, strong relative strength, and an imminent bullish breakout all combine to suggest that buying an April BHI $70 covered call is a smart, low-risk way to deploy trading capital into the red-hot energy sector.
Graphic provided by: MetaStock.
Graphic provided by: MetaStock CS Scientific expert advisor.
The best covered call I was able to find appears to be the April $70 one; it offers an annualized rate of return of nearly 38% if the stock is called away at April options expiration (22 days from now). Option liquidity and bid-ask spreads are looking good on this one, too; as always, try to play with the market to get a more favorable price, especially if you are skilled at reading intraday charts. See Figure 4.

A weekly close below the nine-period EMA before expiration would be a good sign that it's time to close the trade out. Other than that, you can probably just let the trade run after putting it on. For your information, breakeven price at expiration is about $68.25, fairly close to the current value of the nine-week EMA. Check out this covered-call play, as stocks in red-hot industry sectors/groups like this one usually offer the absolute best opportunities for savvy buy-write traders and investors.



FIGURE 4: ORDER ENTRY SCREEN. The Thinkorswim order entry screen is a breeze to understand and use. Dozens of preconfigured option strategies can be translated into ready-to-trade orders with just a couple of mouse-clicks.
Graphic provided by: Thinkorswim.