Running the Deel momentum filter in MetaStock 11, we find this handful of large-cap stocks making the grade today; there's a reasonably good amount of sector diversity represented here, too. Based on the Deel exploration parameters, Leucadia (LUK) shares appear to be the strongest, so I then ran this same group of stocks to check their respective relative strength rankings versus the Standard & Poor's 500 (.SPX). See Figure 1.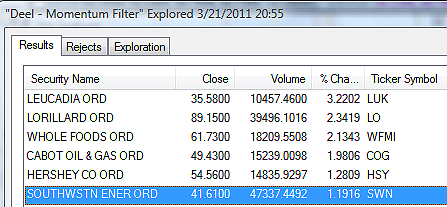 FIGURE 1. The Deel momentum filter exploration output for the S&P 500 component stocks for March 21, 2011.
Graphic provided by: MetaStock.
Graphic provided by: MetaStock Explorer.
Running the stocks against the .SPX, and using a 13-week rate of change calculation to measure the relative strength of each stock against the index, we now find that Cabot Oil (COG) is the top dog of the pack (Figure 2). The Deel screen tends to highlight the near-term price action more than the RS scan does, so it's nice to see that COG has decent scores on both screens. LUK also looks like a stock worthy of further analysis, too, based on similar criteria.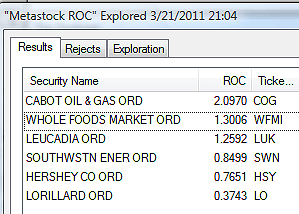 FIGURE 2. The 13-week rate of change of those same stocks versus the S&P 500, as of March 21, 2011.
Graphic provided by: MetaStock.
Graphic provided by: MetaStock Explorer.
Now that we've isolated a stock with strong short - and medium-term price momentum, the next thing we need to decide is how to play it. In the context of the current schizophrenic market scenario, maybe a covered call would be the best way to run with COG's strength, allowing a chance for reasonable gains without unreasonable risk.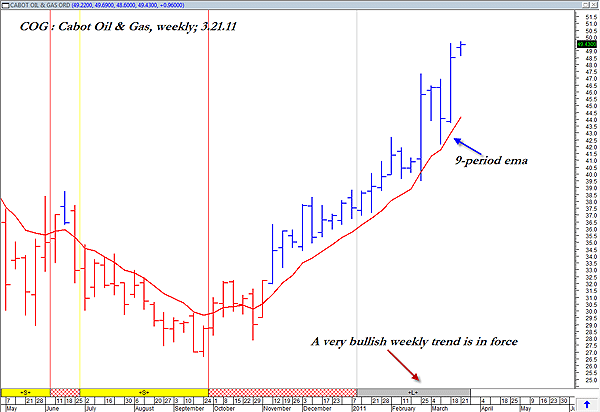 FIGURE 3: CABOT OIL & GAS, WEEKLY. Based on the two explorations, we now have located a stock with strong bullish momentum on both the short- and medium-term time frames. Such stocks can make excellent covered-call candidates, all else being equal.
Graphic provided by: MetaStock.
Graphic provided by: MetaStock CS Scientific expert advisor.
Currently, the April $49 covered-call play in shares of COG is offering the potential for a 51% annualized rate of return, if the shares are called away at April options expiration, a mere 24 days from now. Looking at the weekly chart of the stock (Figure 3), it appears that the (red) nine-week exponential moving average (EMA) may offer a rough guide as far as setting an initial stop-loss point and/or trailing stop -- one designed to allow the stock some back-and-fill room so you don't get stopped out prematurely. The nine-period EMA always seems to do a pretty good job of defining shorter-term market swings, so it may be worthy of your consideration. Most times, a covered-call play like this won't get you into too much trouble, especially if you don't go overboard and buy too many of them relative to your account size. Do some more analysis of your own and see if this COG covered-call play might be a good addition to your short-term trading portfolio.