I don't know about you, but since the late 1970s, I've been reading about the "structural deficit" in the silver market, along with the elusive short-selling banking cabal that, it seems, is sworn to artificially suppress the price of silver. Well, with a 300% price rise in less than three and a half years already under the silver market's belt, it sure looks like the price suppression theory is out on the scrap heap, once and for all. And with silver mining operations pumping out more than enough of the stuff over the past few years (funny how a strong commodity bull market seems to increase production), the arguments about the structural deficit are beginning to wear a bit thin.

Figure 1 is a look at the daily chart of the NYSE LIFFE mini-silver continuous daily contract (@YI). While anything is possible in a manic metals market, it seems that the probabilities favor some sort of a correction, sooner than later.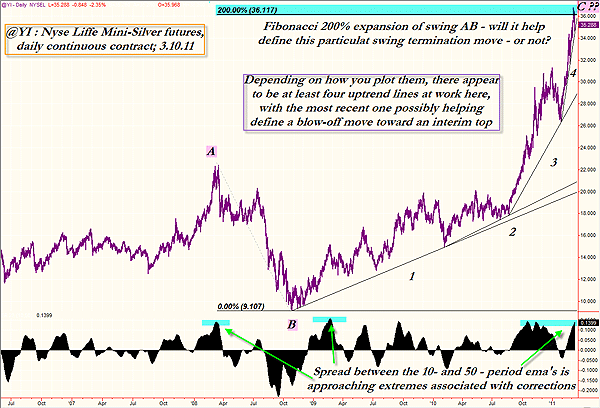 FIGURE 1: MINI-SILVER, DAILY. Will silver futures hit $40 before they see $30 again? Will they ever even see $30 again? Who knows, which is why it can be so hard to trade from chart patterns and technical studies alone. A proven trading system, however, can help you focus on the "trees" of objective market opportunities instead of getting hopelessly lost in the "forest" of conflicting and frequently biased market opinions, many of which are of little use in making profitable trading decisions.
Graphic provided by: TradeStation.
Before going any further, realize that silver could really be in the final stages of a bull market with roots going back a full decade. This market might decide to run far higher than any of us might want to believe, no matter how many lines or indicators we may have plotted on our charts. It's important we let the market do the talking, rather than play the fool and try to call the exact top of any particular swing move.

That said, it still pays to be alert to what's occurring on the chart now:

The uptrending move that began so inconspicuously in late October 2008 has managed to plot four heavy-duty trendlines, with the latest one (labeled as "4" on the chart) featuring a very high angle of attack. At the same time, the ER histogram (bottom of chart), which displays the difference between the 10- and 50- period exponential moving average (EMA) in a given market, is also approaching an area that is usually associated with strong corrective moves lower.

In addition, the mini-silver contract (did you know that the initial margin to trade this contract at TradeStation is only $2,151?) has also begun to stall out right in the vicinity of the Fibonacci 200% expansion ratio of major swing AB on the chart, which could be another tipoff that this market wants to take a breather.


Once the silver market decides to reverse to lower levels after a major run higher, it tends to do so with a bang, typically leaving those with big, unprotected long futures positions in a world of hurt. Make sure you are running fairly close stops and/or starting to take a few contracts off at a profit, just in case this market is getting ready to pull the rug out from under the wild-eyed speculators who are driving it higher.


I develop systems to trade the full-sized Comex silver futures market, so I don't attempt to call market tops and bottoms anymore instead letting the systems do all of the decision making. But it wouldn't surprise me to see either of my silver futures systems begin to flash major sell signals in the weeks and months ahead. The systems alone will call the shots and determine the exact time for subscribers to buy and sell, rather than my own particular brand of charting and technical analysis and market biases.