Oil prices have skyrocketed, and along with rising commodity prices, we've seen sizable gains in stocks of some of the oil companies. Over the long term, this relationship has not always offered a reliable pattern for stock market investors. Figure 1 shows the long-term relationship between the stock price of Exxon Mobil (XOM) and the price of a crude oil futures contract.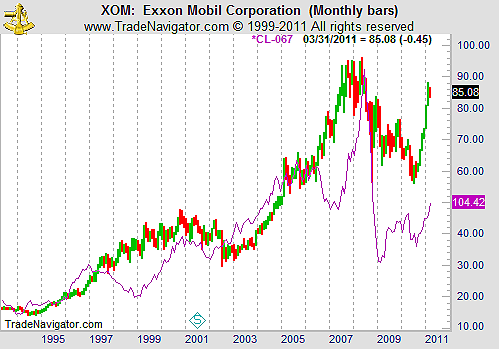 FIGURE 1: XOM, MONTHLY. The price trends have diverged for extended periods of time, while they have also tracked each other closely at times.
Graphic provided by: Trade Navigator.
A very close stock/commodity price relationship can be seen with gold miners. In Figure 2, Goldcorp is a representative mining company, and the prices of the company's stock move almost in lockstep with the price of the metal itself. This shows the very large dependence that the company's earnings have on the price of gold after it is mined -- increasing metals prices boosts revenue and potential profits.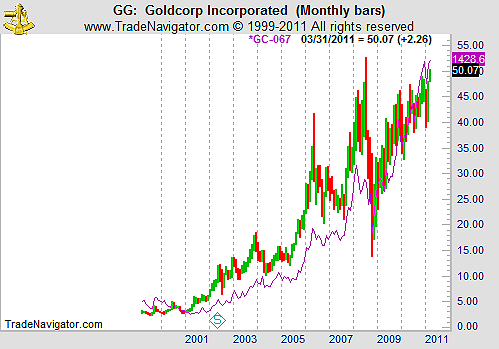 FIGURE 2: GG, MONTHLY. The trend of gold prices and this gold miner are very close to each other almost the time.
Graphic provided by: Trade Navigator.
The same logic applies somewhat to oil companies. Production costs are sizable and somewhat fixed in both industries, so higher market prices can help boost earnings and the stock price. Companies depending on the commodity markets to supply their product see a much lower correlation. Starbucks seems like it should have some relationship to coffee prices, but Figure 3 shows that it would be difficult to spot a trade based on that idea.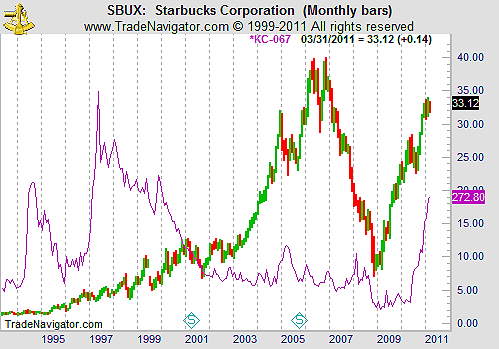 FIGURE 3: SBUX, MONTHLY. Stock prices of Starbucks seem to move independently of the price of the coffee futures market.
Graphic provided by: Trade Navigator.
Likewise, McDonald's shows no relationship with the prices of the live cattle futures market. Large companies seem to be able to absorb price increases in supplies without seeing a significant impact on their stock prices. They most likely use hedging strategies to mute the impact of market volatility, and the relationship with input pricing doesn't seem to offer tradable insights.


Commodity prices and stock prices seem to be coincident for gold, and little if any leading relationship is visible in the charts.