If you want to make money trading a system, you need to realize that there are numerous pathways that may lead to that elusive destination. Sometimes, the most profitable path through the system trading forest isn't necessarily the one offering the comfort of a frequent winning percentage. Take a look at Figure 1.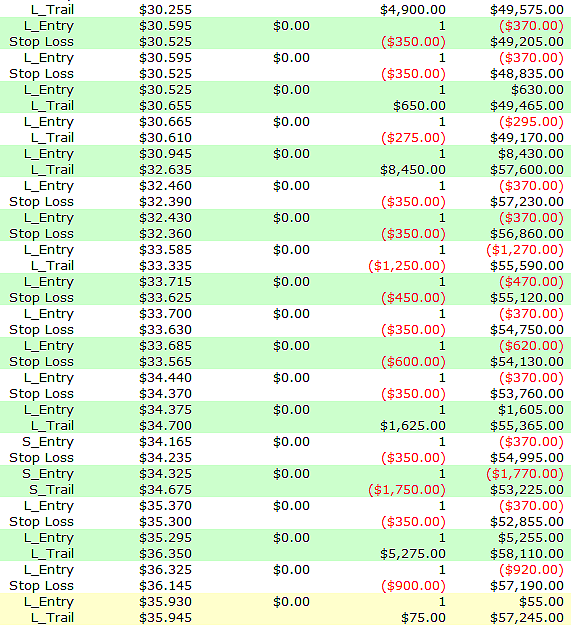 FIGURE 1: TRADING SYSTEMS. Some trading systems are slow and steady, winning perhaps 50% or even 60% or 70% of the time. This ain't one of them -- it's violent, somewhat unpredictable, and always seems to try to test those trading it to the very limits of sanity. Yet, at least in this raw, hypothetical backtest run, it does manage to steadily increase its equity value.
Graphic provided by: TradeStation.
Six winners and 14 losers -- with seven of the losses occurring in a row. Wow, a 30% batting average -- great if you bat cleanup for the New York Mets baseball team, but still rather pitiful looking for a trading system. Could you really stay with such a system, even though the ending equity amount was nearly $8,000 higher at the end of this hypothetical, backtested trade sequence than it was at the start? Think before answering that question, because very few traders would really be able to handle this kind of a trading system, and you're probably no different. But did you know that there is someone actually trading a version of this silver futures swing trading system, with real money in a real trading account? It closed out a trade on March 7, 2011, for $3,500 (before commissions and slippage) in gains.


It's easy to see that this is a trend-following system, one where the winners are typically much larger than the frequent losing trades are: One of the hypothetical losers was $1,750 and the seven-trade losing streak that it was a part of helped produce a closed-trade drawdown of more than $3,800. Obviously, a trader trying to run this system with only $15,000 or $20,000 is going to experience a much higher level of stress than a better capitalized trader with $30,000 or even $50,000 will. Another possible stress factor for smaller traders in the silver futures market is the rapidly rising margin requirement to trade Comex full-sized silver futures; with silver now above $36.00 an ounce, who knows how high the initial and/or maintenance margins might rise to?


Summing up, before deciding to go with a particular trading system, be sure to ask yourself the following questions:

* Can I emotionally cope with a system that only wins 30% to 40% of the time?

* Is my futures trading account adequately capitalized to help ensure that I will be able to stay the course through the kind of historical drawdowns previously seen by the system? Am I also prepared to handle even larger drawdowns?

* Am I prepared to deal with a sudden increase in margin requirements in extremely volatile or trending markets?

* Am I properly diversified across markets and/or trading systems, making sure I am reasonably well-prepared to deal with any kind of market conditions?

While there are a myriad of issues to consider before trading the futures market with any kind of system, those four should be right near the top of the list, especially when considering trading the silver (or any other) market in the midst of a manic, generational bull run.

Taking time to ask the right kind of questions before you commit to such an important financial undertaking could be one of the most vital tasks you'll ever embrace. Be sure to think outside the box, as you do this, too, because there simply are no silly questions when dealing with trading the futures markets.